Hey EF Fam,
I have received a HUGE response about the Body-Mind Purification
Program or EF Detox that we will be launching at EarthFIT here shortly.
More than I ever expected.
So… I decided that the best option is to do a workshop on detoxification
and then explain the process for the methods that we will be using here
at EarthFIT.
This way people can learn:
Why taking a proactive approach to detox is necessary to for health, wellness and performance
Why most detoxes don't change your body on a cellular level
How years and years toxin are still in your brain and tissue and how to mobilize the toxins and remove them (Many detoxes only mobilize the toxins)
7 Dangerous Toxins You Encounter Daily (and what to do when you encounter them)
How to improve energy, clear brain fog and heal faster through detoxification
How toxins activate genes that express disease and how to turn off these genes
Why toxins can prevent weight loss and in fact cause the body to put on more fat
Why these methods are the wave of the future for not only health, wellness and peak performance but also disease and cancer prevention
Where most toxins come from and how to limit exposure
The necessary steps in detoxification (Detoxing too fast is a bad thing)
And then at the end you can make an informed decision as to wether you would like
to take part in the EarthFIT Purification Program.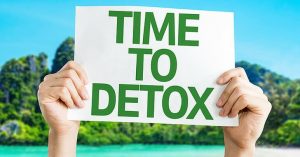 THE WORKSHOP INFO
WHEN: Sept. 14th 6pm
WHERE: Lady's Island EarthFIT (39 Sam's Point Rd)
COST: $19
SPACE: ONLY 12 Spots (Space is limited)
Committed to your success,
Ian
P.S. If you want to know why we need to preemptively take action to detox our body before it goes out of balance then come to the detox workshop and book your spot by clicking here
P.P.S. Check out the Lowcountry Weekly article I did and find out what emotion is proven to improve your health and life.
Ian Hart is a Body-Mind Transformation expert, the creator of EarthFIT Training Systems, co-creator of BACK PAIN RELIEF4LIFE, and founder of BEAUFORTPERSONALTRAINING.COM and MYBACKPAINCOACH.COM. Ian and his team help people get into optimal shape in the safest, fastest and most effective way possible, using cutting edge science.