"All right. How's it going? It's Stephen again from EarthFIT and today we're going to talk about either a bench supported row or a self-supported row. This can go either one of them.
So the biggest thing that I see when we're going through a training that we see with the row is it's not keeping the shoulder staying all the way back. And what that's going to do is to not keep the neutral spine here. So the biggest thing we want to make sure we do when we get set up in the row is, once you pick that dumbbell up, you want to lock the shoulder back. So we don't want the shoulder to hang down. (Please see the video) What that's going to do is not only is it going to pull down with the AC joint, as we put pressure on your shoulder, it's actually going to make the spine round to where you may be feeling this in your lower back. So you want to lock it up. And now here, I got maximum tension on the back, even though I haven't even moved this dumbbell, I can feel that my back is actually activated here. So as I pull the dumbbell up to my chest, now my back is squeezing even harder. When I come back down again, I don't want it to come all the way down. What we see a lot of time is let it come all the way down. And then when people pull back up again, what that's going to kind of do is instead of keeping a nice flat back, the spine starts to twist.
And then also we don't want the dumbbell to come all the way down and take a break. The dumbbell touches the ground backs disengaged. We want the back to stay engaged that entire time.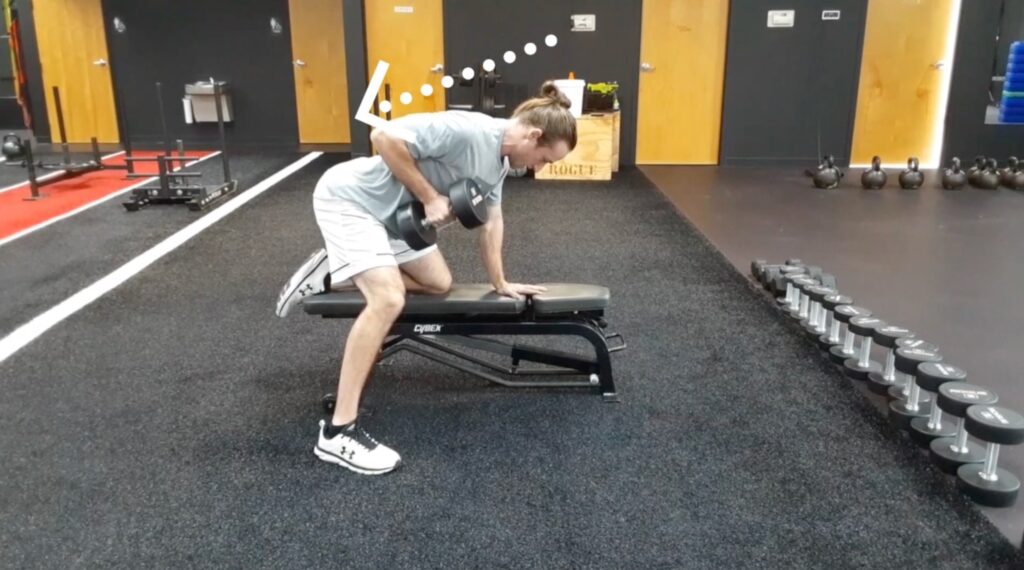 So it's up to the chest. Nice, slow in control. My head is looking straight down. You don't want to look up there cause that's going to put tension on the cervical spine. So nice flat back, pull up to the chest and then slowly in control back down. And also you want to make sure when you pull up, you don't want to twist the back as well. And that's going to put pressure to your lower back. So the shoulder has to stay locked back again the entire time control up and the control back down
Again, that can go to the self-supported row as well. You got your elbow on your thigh, exact same thing there. You want to make sure coming down, don't want that dumbbell or kettlebell to touch the ground. Back's not engaged. Lock it back, pull up. And then right back down again, that will help you target the upper back muscles just a little bit better. So next time we're doing the self-supported row or bench supported row. Use that tip, get your back stronger."
-EarthFIT Coach Steve