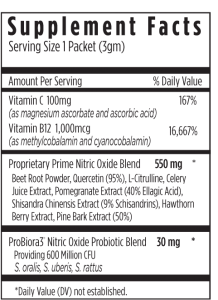 "The most important discovery in cardiovascular medicine protects against cardiovascular disease rapidly slows the aging process.
Nitric Oxide
At age 40, nitric oxide levels decrease over 50%. The hardening of arteries, decreasing blood flow and low energy are inevitable"
BOOST ENERGY LEVELS,
EXPAND ARTERIES,
IMPROVE SEXUAL FUNCTION,
INCREASE BLOOD FLOW,
ENHANCE BRAIN ACTIVITY,
REVERSE AGING PROCESSES.
PRIME Nitric Oxide Activator

Blood Vessel BEFORE

Blood Vessel AFTER

CYCLE

Maximize your blood flow and improve circulation with this cutting-edge technology. N-O Activator makes use of an entirely new pathway along with the ultimate combination of nutrients to restore Nitric Oxide (N-O) production.

Our arteries are the transportation highway for oxygen and nutrient rich blood to reach every organ, tissue, and cell in our body. And Nitric-Oxide (N-O) is the nutrient that keeps this highway wide-open, flexible, and smooth for blood to flow freely. At age 40, we experience a natural but dramatic decline in Nitric Oxide production. Without intervention, our arteries tend to narrow and stiffen, creating a buildup of plaque, compromising blood flow. PRIME gives you a daily shot of powerful nutrients proven to promote N-O production and maximize blood flow.

Benefits:

Promotes vasodilation (expansion of arteries and blood vessels) critical for maintaining healthy blood pressure levels, that are already in a normal range
Maximizes circulation – signals the arterial smooth muscle to relax, dilating blood vessels, and improving blood flow
Prevents premature cardiovascular aging by promoting blood vessel flexibility and health
Encourages normal sexual function in both men and women by enhancing blood flow to penile and vaginal tissues
Promotes neuronal communication and blood flow to the brain, which encourages clear thinking, faster cognition, and enhanced memory recall
Improved blood flow leads to improvements in energy, mood, and general feelings of well-being

Directions for Use

Take 1 PRIME packet first thing in the morning on an empty stomach and before brushing. PRIME should be taken at least 30 minutes prior to eating. For best results take 2 packets consistently for 90 days, followed by 1 packet per day for maintenance.

Take once or twice daily, 12 hours apart. Pour a small amount of powder on your tongue and allow to dissolve before swallowing. Repeat until finished. In the first month of use, two packets per day are recommended for optimal results. Prepare to live life 10 years younger!

NOTE: Those who are pregnant, breastfeeding, or who have a known medical condition, should consult a physician prior to taking a new supplement. Store in a cool, dry, place.

Other Ingredients

Fructose (natural sweetener), Natural Flavors and Citric Acid.

Supplement Facts