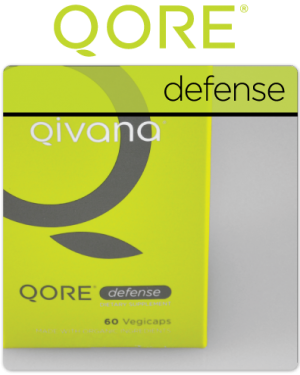 QORE Defense
This Organic Mushroom Complex is a combination of most immune-potent varieties that exhibit a well-documented history of supporting immune system activity in humans.
Mushrooms are the earth's natural detoxifier. They grow on the floor of the earth and magically recycle harmful and decaying materials into harmless and useful soil. To survive they have become proficient at expelling undesirable chemicals and contaminants absorbed during ingestion by developing an aggressive, proactive, innate immune system.
In humans medicinal mushrooms have a unique ability to also activate and train our immune-defense mechanisms. QORE Defense contains 6 of the most studied, most proven of these medicinal mushrooms. They are organic, grown in a greenhouse in a compost of immune boosting plants, a process that further increases their power to boost and train our immune system.
This powerful complex is designed in harmony with the principles of ancient Tibetan and traditional Chinese medicine.
Benefits:
Supports healthy immune system response and function

Activates the Natural Killer cells (NK) of your immune system

Help maintain health during periods of stress and seasonal changes
Directions for Use
Take 2-3 QORE Defense capsules, up to 3 times daily, with 8 oz of water as needed. Recommended especially during periods of stress, travel, and seasonal changes to improve immune system function.
NOTE: Pregnant or lactating women, diabetics, children under 6, hypoglycemics and people with known medical conditions should consult with a physician prior to taking supplements.
What Makes It Unique
Defense is the only product that has created a new variety of mushrooms by literally combining them with adaptogenic herbs making a new "super-mushroom". Mushrooms assimilate and recycle nutrients from their environment. Therefore, the mushrooms in Defense are grown on a matrix of immune-enhancing adaptogenic botanicals meshed together with organic brown rice. This allows the mushroom to assimilate the nutrients from these powerful herbs into its cell walls.
One approach to creating dietary supplements and pharmaceuticals has been to isolate, extract, and deliver a highly-purified, single active compound in extremely high concentrations. While this may have some limited therapeutic value, several studies have suggested that the broader spectrum nutrient extracts may have additive and even synergistic effects, above and beyond those of a single purified compound. In fact, there are numerous studies in which mushrooms prepared with traditional water-extract decoctions, containing a full complement of bioactive components, deliver more significant health benefits beyond a single active extract. Defense does not process or extract single nutrients from the mushrooms, but rather mills each mushroom whole, thus capturing the complete spectrum of nutrients for synergistic effect.
Other Ingredients
Vegetable capsules (natural vegetable cellulose, water), microcrystalline cellulose, magnesium stearate (vegetable source).
Supplement Facts