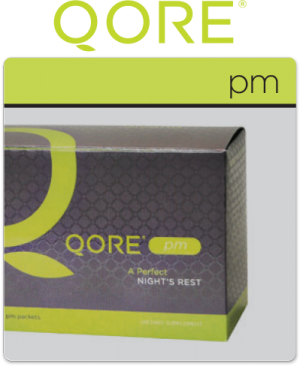 QORE PM
QORE PM combines a centuries-old formula from Asia,  with cutting-edge sleep research, in a balanced formula to address all areas of sleeplessness. Unlike most sleep aids that leave you tired and groggy, QORE PM allows you to wake feeling refreshed and energized.
According to the CDC, insomnia is a national health epidemic that affects more than 70,000,000 Americans. People with insomnia are:
• More likely to have a serious illness
• Four times more likely to be diagnosed with depression
• More likely to have an accident on the job, at home, or on the road
• More likely to miss work and accomplish less than well-rested coworkers
QORE PM helps you get a perfect night's rest, essential for well-being.
Benefits:
Promotes normal, health sleep with nutrients addressing each stage of sleep

Improves sleep quality with fewer sleep disturbances and faster reinitiation upon waking

Unlike other prescriptions and over the counter remedies, you will wake refreshed and energized without a hangover or groggy feeling

Fast-Acting formula (improving sleep latency)

Use worry-free, PM is non-habit forming, safe for daily use
Directions for Use
Take 1-4 capsules 30 minutes before bedtime.

CAUTION: Do not drive or operate machinery immediately following use of QORE PM. If you are pregnant, lactating or under 18 years of age, please consult a physician prior to use.

What Makes It Unique

QORE PM is a novel, all-natural sleep aid designed to address the biological problems underlying poor sleep quality. Insomnia and low-quality sleep affect millions of individuals, resulting in lost productivity, poor quality of life, and health complications. Evidence from cutting-edge neurobiology and biopsychology research suggests that changes in endocrine system functioning and the production of brain neurotransmitters disrupt sleep quality. QORE PM corrects these biochemical imbalances, restoring biological equilibrium and improving quality of sleep. Unlike pharmaceutical sleep aids and many other all-natural sleep products, which often produce grogginess or drowsiness upon waking, QORE PM is designed to promote feelings of renewal and freshness. QORE PM achieves this by correcting abnormal sleep cycles and supporting other biological systems related to good health.

Ingredients

Vegetable capsule (natural vegetable cellulose, water), magnesium stearate, stearic acid, silicon dioxide, microcrystalline cellulose.

Supplement Facts