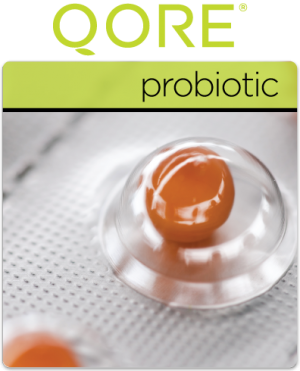 QORE Probiotic
Promotes a regular and healthy digestive system by replenishing your intestinal flora with proven strains of human-source bacteria.
Health starts in your gut. It's where harmful invaders are disarmed, energy is extracted from food, and toxins are removed. These important duties are performed by probiotics – the trillions of friendly bacteria that live in your intestines. Your health depends on their health.
Stress, poor nutrition, prescription drugs, alcohol, and caffeine all compromise this colony, and your health. QORE Probiotics give you billions of new, fresh, healthy bacteria, delivered right to your gut. Our world-class delivery system is superior to any other method for keeping the bacteria alive until they reach your intestine where they can thrive and multiply.
Benefits:
Probiotics are key to maintaining a regular digestive tract that consistently removes waste and toxins.
Probiotics are your first line of defense and are critical for a normal immune response to harmful invaders.
Probiotics make vitamins, extract nutrients from food and ensure proper absorption of nutrients.
Directions for Use
Take 1-3 Trisphere capsules any time of day or night. For best results use consistently for a minimum of 90 days.
NOTE: Pregnant or lactating women, diabetics, children under age 12, hypoglycemics, and people with known medical conditions should consult with a physician prior to taking supplements.
What Makes It Unique
Studies have uncovered the fact that most probiotics on the market have a very high percentage of dead organisms, making them useless. Fragile probiotics that require refrigeration make it even more difficult to thrive from the factory to your gut. Many companies ignore the fact that probiotics die in stomach acid and offer liquid, capsule, or food-infused probiotics that have a low probability of making it into the gut alive. Qore Probiotic is delivered in the protective Trisphere® capsule, ensuring the probiotics are properly shielded from temperature fluctuations, external environment, and stomach acid. Laboratory results demonstrate Qore is up to twice as effective for keeping probiotics alive and healthy until they're delivered to their new home in your intestine.
Other Ingredients
Vegetable (palm) oil, gelatin (fish source), glycerin, lecithin, pectin and caramel coloring.
Supplement Facts