Core Engagement | Beaufort Fitness
You've got questions? Hopefully I have the answer. In today's Q and A. I'm gonna go over how to engage your core while you're exercising. So a question was asked in the group, Sam, how do I engage my core while I'm lifting while I'm actually working out. I always hear you guys say engage your core, but how do I actually do it? So I'm gonna go through really two ways that we could do this. So first thing, the easiest way that I have clients get active to their core. Cause I always hear Sam I don't, I don't even have core muscles I don't have any connection to 'em. How, how can I brace them? So I'm gonna show you that you guys do. So. I want everybody to follow along with me at home. Take your hand, put it on your stomach here. Cough. Make yourself force out a cough.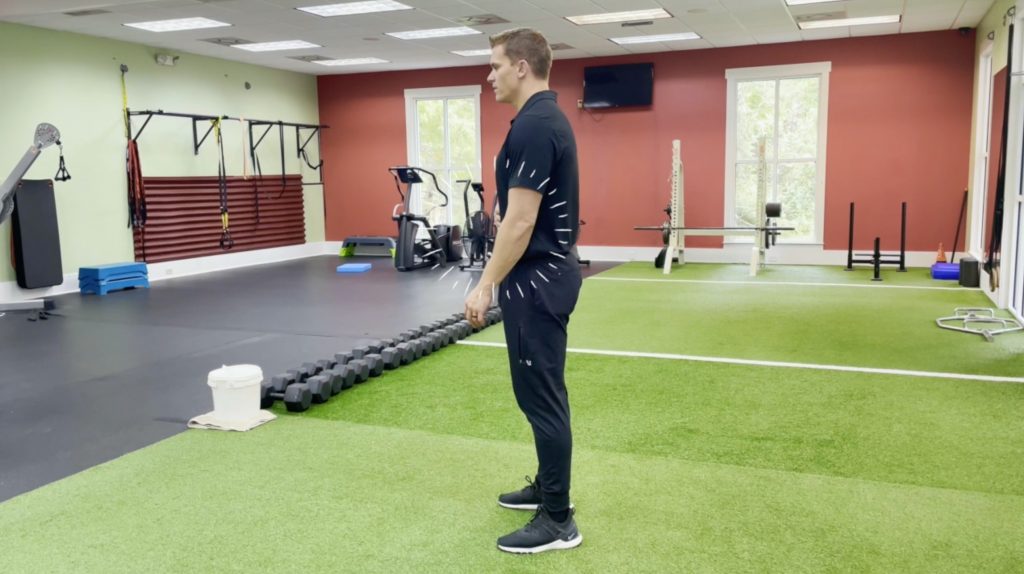 As you cough at the end of that cough, you're gonna feel your belly get a little bit harder. The abs are gonna come out. So we want to do that. Okay. Now we want to practice taking a big breath in, pushing out without coughing. Now some of you are holding your breath, but you will have to learn over time. How to like right now I'm bracing my core and I'm talking to you guys really fast. You guys are gonna wanna learn over time, how to talk and breathe actually with your core brace, but for now big breath in keep those lips tight, push out. You give up the air out too and practice pushing right there. Okay. So that is actually how you're gonna get your core fired up. Now, when we're exercising, there's really, we're separated by lower body and upper body. We're gonna start with the lower body first.
So let's say we're doing a squat or a deadlift. How do we engage our core in those exercises? Again, you're gonna go through that kind of make yourself cough, right? So you feel that get hard. Then you want to get practice beforehand. It's good. If you get in and warm up and actually practice this a little bit. The other thing you can do is just put your hand on your belly, go in and out. Okay? So we're getting lower body movement. Okay. We know how to push it out. Let's say we unrack that bar or we pull up a dumbbell and we're getting ready to goblet squat. As soon as I have this weight and about to go down, I'm gonna take a big breath in. I'm gonna push out. I'm gonna sit down nice and tight here, and then I'm gonna exhale. As I exhale, I'm still pushing my abs out and standing up.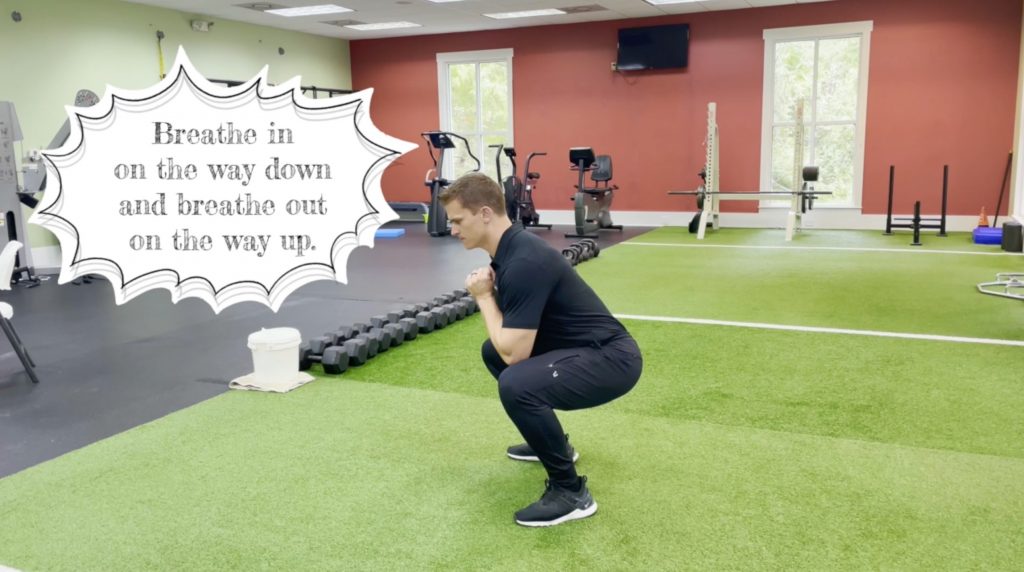 That is how you would perform a lower body movement. If we were doing a deadlift, for example, big breath in, we wanna fill that belly up with air. That's called a 360 breath. So as you breathe in, think about breathing through your belly, push out, roll it down, exhale, stand up. So that is how you kind of do it with lower body movements.
Now, upper body movements. It actually starts in the feet. A lot of people will get this wrong because they're feeling shoulder press or things like that in your back. You should not, you're gonna go tripod foot. What does that mean? We hook our big toe into the ground. We actually try to hook it. Again if you're at home, try to follow along with this… hook your big toe into the ground, and we're gonna hook our pinky toe into the ground.
So we should have both toes, those toes grabbing the ground which our heel should stay flat here. Okay. Bend our knees a little bit. Okay. And this is kind of the basis of how you're gonna start for any overhead presses or upper body movements. Even if you're benching, you're laying back flat and you can do the same thing here. After we got that lower body, nice and stable, big breath in push the abs out right there. And then we'll exhale, press up, inhale the way down, exhale, press up.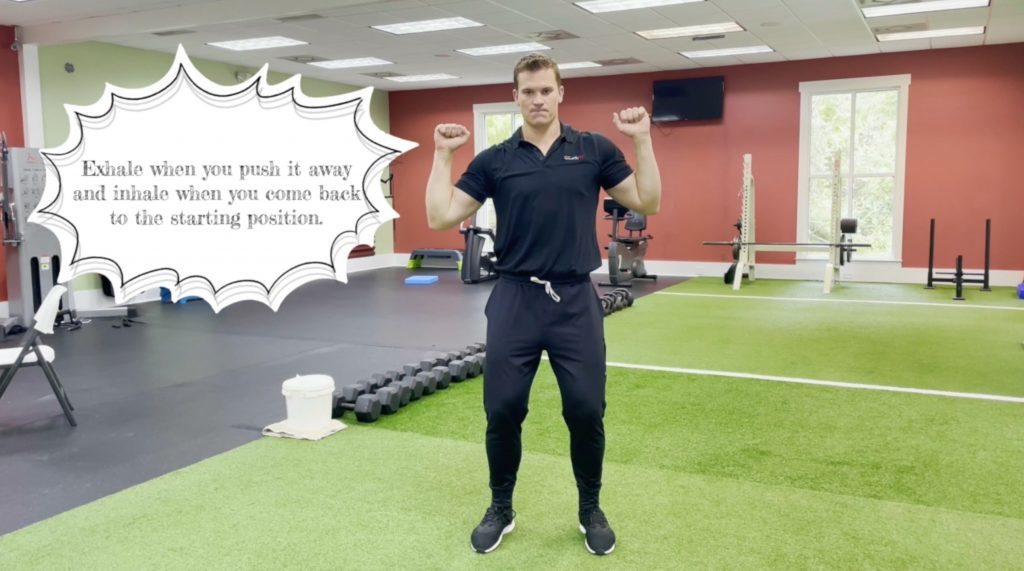 The entire time we're trying to take our belly button we're pushing it out and kind of down. So you want to think about tucking your ribcage down and pushing your belly button out. And that's gonna be the best way to engage your core to keep you safe while you're lifting, give you a couple bonus things you could do at home.
If you're somebody that is a mom that has had children, you have really trouble kind of connecting to your core. You can do this exercise to work on kind of just connecting your core. So let's just say you have a… I'm gonna bring my back up a little bit here. You have a nice arch here in your back. You fit your hand under it. All you want to do is practice pulling everything down.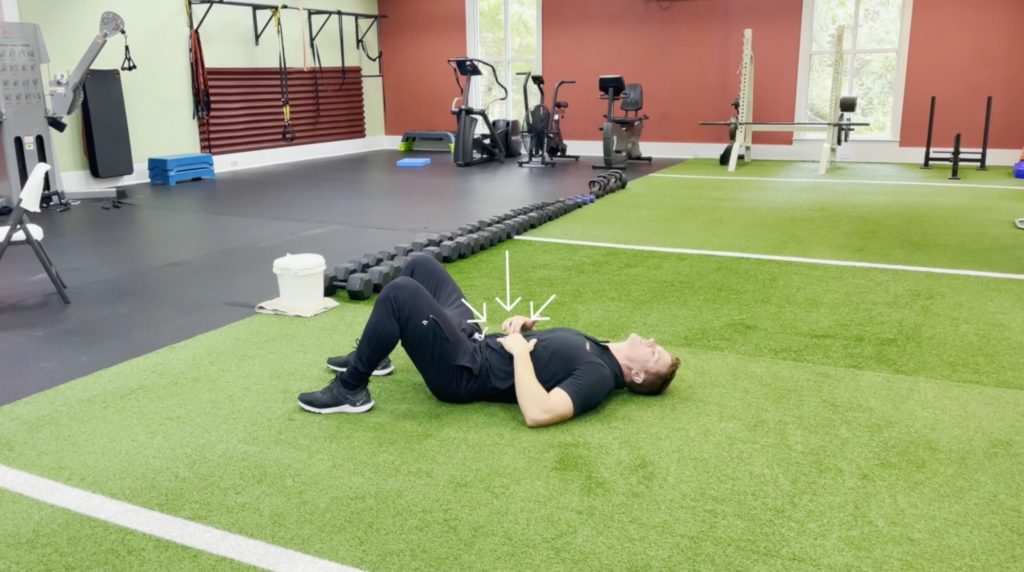 So you wanna pull your belly button into the floor, just like that. And that's gonna start the process of you actually getting into some of those deeper core muscles. So when you're standing up doing those squats or overhead presses, you can actually connect your core. So a good recommendation for that would be like, do like three sets of 20 reps of pulling your belly button down to start to get that work in. All right. I threw a lot at you guys today. If you have any questions about that, drop it in the comments. If you'd like this video, gimme a thumbs up. If you loved it, gimme a heart and as always stay strong.
-EarthFIT Coach Sam