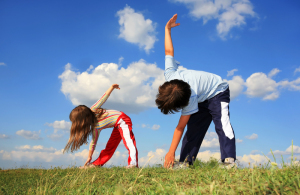 Exercises and Back Pain

"Hey! What's going on? It's Ian Hart here, Back Pain Relief4Life Expert and Co-Creator of the Back Pain Relief4Life Program and the question I get asked frequently is "Should I exercise when I have back pain?" So exercise and back pain, do they go together? Before I get into those issues I want to make sure, everybody knows loud and clear that no bed rest ever when you are suffering from back pain and here's why…
First off, in very severe, traumatic cases maybe bed rest is needed; I just want to make that clear. But for the most part if you just have back pain – even if you feel like something is very severe – the worst thing to do is to lay in bed all day. First off, if you lay in bed it's going to create more atrophy to the muscles that support the spine, which is most likely the part of the problem that is causing the back pain to begin with, and then you will have no recovery to the injured area. You won't allow for the blood to flow and oxygen to get into that injured area, the muscles can lock up tighter, there can be more compression on the disc and it can create more problem later on. You might feel good right then and there, I know it can be painful to move around with back pain but you're better off getting up and moving around. Here's why:
Again like I said, it's going to bring blood flow, oxygen, nutrients to the injured area. It's very important to make sure you warm up before you do any exercise and a warm up would be light movements like biking and depending on your back pain, biking with an atomic bike, getting on elliptical and just moving slowly and get the blood flowing and oxygen moving right away you are going to feel better just from that. Then doing light movements – if you watch some of our other videos, make sure you are moving properly, you're hinging at the hips so you are not putting more damage to the injured area.
It's also going to reduce inflammation by flushing out the toxins and again just mobilizing the blood. It's also going to strengthen the muscles and put compression on the spine. This is very important for recovery of your back. If you are laying down, your spine will not have any compression on it, when you walk around all day there is compression on the spine and that is actually how the rest of your body gets nutrients through the synovial fluid in the spine, when there's compression it activates the synovial fluid and then you can receive nutrients to help recover [from] the back pain or the injured area.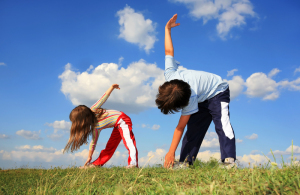 Also flexibility. When you rest or you go into bed rest you tighten up more. When you bring oxygen and blood flow, it's going to increase the mobility in the joints and then you can do some flexibility movements that is going to open up the area, maybe take some compression off the spine and bring you relief later on.
So we have specific movements, we create specific movements that allows somebody even in severe back pain – in specific cases, we have people who had no discs in their back or which were in pain for 20 years literally no discs and a few short weeks of doing this specific movements, the back pain was gone. They couldn't stand for 5 to 10 minutes, they could not fish or do golfing anymore because their life was in misery and then after doing this specific movements repeatedly and progressing them on and on they eliminated their back pain and now over a year later are free from that misery of the back pain.
So if you would like to see those specific movements, you could check those out at backpainrelief4life.com but make sure that if you have back pain you continue to move, don't rest, don't lay down, don't stop moving, just get up, get moving, do some light activity, get some blood flow, drink lots of water, good food as well that's going to help reduce some inflammation and this will help back pain be on the way to recovery and you will see in time, provided that you do some exercises that target that area, your back pain is going to be eliminated and I know it will.
Again, this is Ian Hart with backpainrelief4life.com and we wish you a full recovery on your back pain."
Ian Hart is a Body-Mind Transformation expert, the creator of EarthFIT Training Systems, co-creator of BACK PAIN RELIEF4LIFE, and founder of BEAUFORTPERSONALTRAINING.COM and MYBACKPAINCOACH.COM. Ian and his team help people get into optimal shape in the safest, fastest and most effective way possible, using cutting edge science.