Hey EF Fam,
"The average person now, they are doomed to having lots of
chemical in there body from 500 times up…
well what do we have to do to get this out?.."
"What you have to do is… you have to use a proactive approach
like the [detox] program to clean your body out."
The above quote is from world renown Harvard trained surgeon DR. Yu.
He was/is a neurological oncologist and he now dedicates his time to
detoxing people using a niacin, exercise, sauna protocol. Watch the
video below to here some of his powerful story.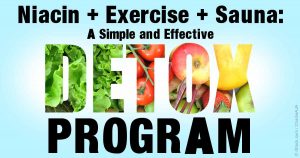 After doing the detox myself, I truly believe this will be the new norm for
people to live a healthy and vibrant life.
Here is a video by Dr. Yu and Dr. Mercola about the benefits of detoxification.
CLICK HERE TO WATCH THE VIDEO BY Dr. Yu.

Committed to your success,
Ian
Ian Hart is a Body-Mind Transformation expert, the creator of EarthFIT Training Systems, co-creator of BACK PAIN RELIEF4LIFE, and founder of BEAUFORTPERSONALTRAINING.COM and MYBACKPAINCOACH.COM. Ian and his team help people get into optimal shape in the safest, fastest and most effective way possible, using cutting edge science.