Who Am I And Why Listen to Me?
Ian Hart The Co-creator of and Internationally recognized Back Pain Relief Formula Called Back Pain Relief4Life
Owner of EarthFIT Personal Training Facility in Beaufort
Me and My programs have been feature in and on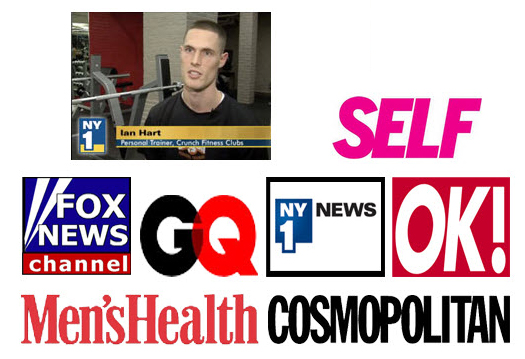 Suffering?
Nagging
Aching
Spasm
Shooting pains
Debilitating
Preventing them from feeding their families
Preventing them from fully enjoying their lives
I have suffered and tried ALMOST everything
What I have Tried
Massage therapy
Pain medicine
Acupuncture
Ultra Sound
Electric Stimulation
"The Sheet" of exercises
Yoga
Chiropractic
Physical Therapy
Pilates
Osteopath
Kenesis Myofacial Integration
THANK GOD NO SURGERY!!!
Band-aid Approaches That Can Cause More Long-term Pain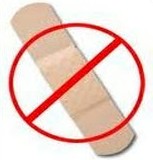 Pain Meds (decrease nutrient absorption and mind body connections, addictive, leading cause of death)
Surgery (last resort and 50% success rate)
Adjustments
Morning Stretching especially when body is cold (can be dangerous)
Twisting and popping the lower back
What's Causing SO MUCH Back Pain?
Incorrect movement patterns: sitting, standing and getting up
Lack of Nutrients (water, vitamins, minerals)
Lack of Oxygen to damaged nerves (no recovery)
Too much spinal flexion (ab craze)
Lack of knowledge and understanding about Exercise Science from the general practitioners and general population
People seek only "band aid" approaches rather than targeting the true problem
Lack of movement
#1 Lack of strength and flexibility in muscles supporting the pelvis and spine (leads to Muscular Imbalances)
The Relief4Life Triangle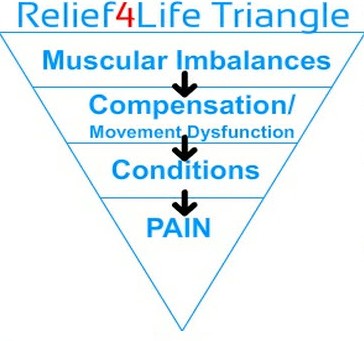 The Pain Cycle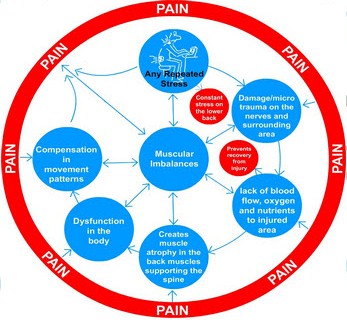 What Is Happening With These MI?
Again… It causes micro trauma
Puts compression on the discs and the nerves
Prevents recovery
Unnecessary stress on the joints like a tug-o-war (especially the lower back)
Anterior muscle group is stronger while the posterior chain is weaker
Causes herniated discs, sciatica, piriformis syndrome, spinal stenosis etc.
Exacerbates the

"devil in the details"

by causing more dysfunction
What Is The Devil In The Details? 
What minor issues are causing major back problems?
Sleeping wrong
Getting out of bed wrong
Stretching first thing in the morning
Twisting for relief
Brushing teeth
Tying our shoes
Getting in the car
Sitting
Getting up off the ground
Picking things up
Standing
We fight against "The Devil" everyday

It causes micro trauma and repeated damage, which prevent oxygen and nutrients from reaching the damaged area
What Does All This Mean?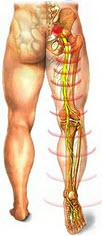 Lack of Neuromuscular connection and motor control
Muscular Imbalances
Almost 100% of our clients were totally disconnected with their bodies.
No impulses to core musculature and injured areas that support the spine
We will go into this in more detail later
Neuromuscular System and Motor Control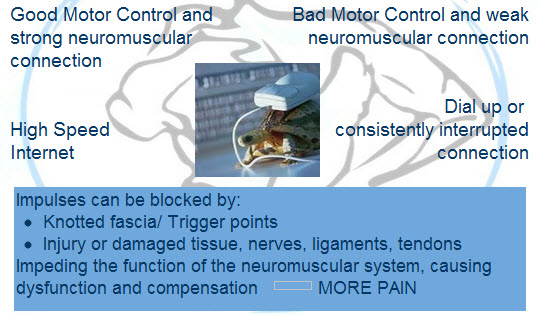 SO WHAT'S THE SOLUTION?
Generic Stretches?
No Method, No Results!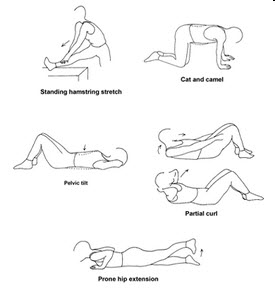 Balanced Exercise Routine and Specific Movements to Balance Out the MI
Break down the bad movement patterns
Correct it and create a new pattern
By activating weak muscles and stretching tight muscles
Releasing the fibrous knots that have been causing dysfunction and blocking impulses
Improving impulse speed and connection
Involving the brain 100% throughout exercise
Exercises That Create Long-Term Relief
For back pain relief we want exercises that:
break down the knots, and
improve impulses around the discs and pelvis
Transmitting signals through the blocked or impeded areas of the back and pelvis will allow for recovery and pattern correction

Warm up before any exercise is done
And now, 4 simple exercises for long-term back pain relief…
1. Knee Side Drop out ("The Clam")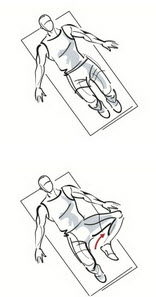 What It Does:
Stretches Adductors
Activates glute medius
Opens up SI joint
Takes pressure of the joints and injured area
Creates new pattern by activating the weak and injured area
Affects the lower back right away
2. Single Frog Leg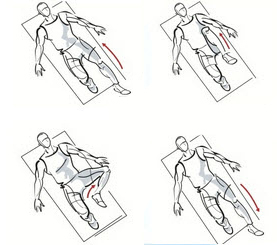 Deeper activation of core muscles
More pressure taken off the disc and vertebrae
3. Chrysalis 

PNF/Static movement: the future of corrective exercises
Involves the whole body with emphasis on injured nerves and ligaments
Every muscle has to be activated
Implementation of the correct thought patterns
Pressure is released from the disc of the low back
Neuromuscular connection is activated even more
4. Jack Knife 

Similar to the chrysalis, but larger muscle group
More posterior chain activation
Bottom of feet, calves, hamstring, glutes, low back, mid back, upper back, neck, shoulder and arms
Other Techniques For Instant Relief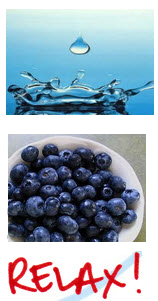 Drink more WATER
Better nutrition (fruits and veggies for nutrients and natural anti-inflammatories)
Less inflammatory foods (dairy, additives, preservatives, gluten, etc)
More deep breathing and relaxation techniques
Reducing stress on the back through thought and posture
At Work… At Home
At Work 
Walk the stairs do some body weight squats
Upper Body (stretch chest, retraction of the scapula)
Lower body (hamstrings, Glutes)
Ab activation
Cubicle cure
At Home 

More Info
Reach me at ianrhart@gmail.com
Fitness Blog 
http://www.earthfittraining.com/
Back Pain Blog 
http://www.backpainrelief4life.com/
Training information 
http://beaufortpersonaltraining.com/
If you are serious need of back pain relief I have 4 DVD's of our program here today which make a great gift.