"Before Back Pain Relief4Life, I had back pain constantly. I had back surgery five years ago. I blew out a disc. The pain really, of course, was much better after surgery, but always had a nagging pain. I started coming to EarthFIT, loved it, helped the back pain, but I also tried the Back Pain Relief4Life program which was amazing and I felt immediate relief.
I did the Back Pain Relief4Life twice and after the second time that I did it – and it takes maybe 20-25 minutes – I could tell a big difference. I mean, when I came in here I had a prescription of steroids waiting to be picked up at the pharmacy and I did Back Pain Relief4Life twice and never picked the prescription up.
If you've got back pain, if you're skeptical about the program, you have to try it. It is worth far more than it costs. The money is minimal, but the relief is amazing! It is an amazing program. I can't believe what a difference it has made. I would highly recommend this program to anybody who has chronic back pain, anybody who doesn't have back pain. It is a good stretching program and it just makes the world a difference, so I encourage anyone try it."
"IMMEDIATELY AFTER DOING THE FIRST SESSION OF BACK PAIN RELIEF4LIFE JONOLYN SENT THIS TO A FRIEND WHO ALSO SUFFERED FROM BACK PAIN"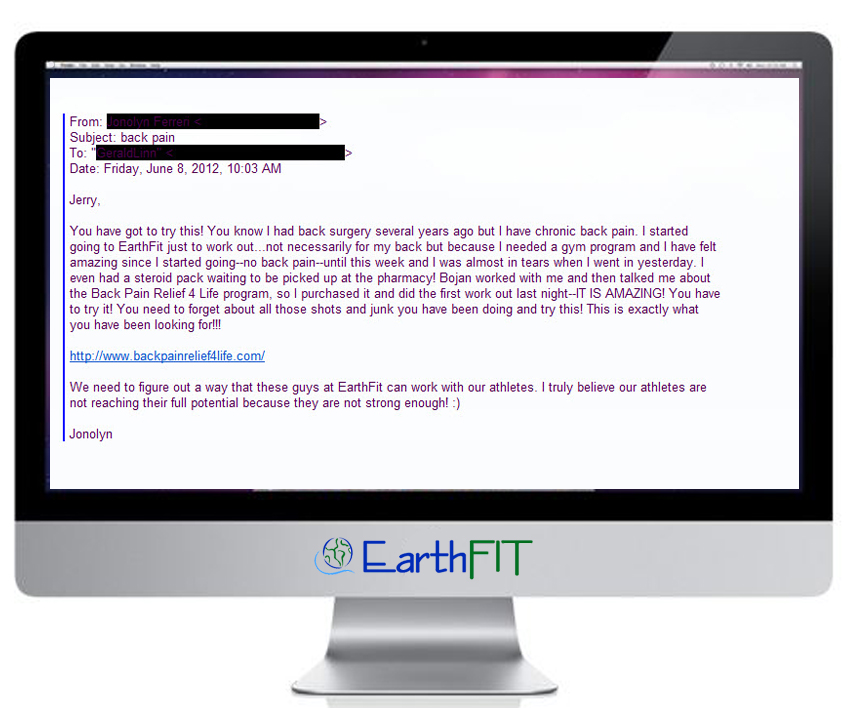 Ian Hart is a Body-Mind Transformation expert, the creator of EarthFIT Training Systems, co-creator of BACK PAIN RELIEF4LIFE, and founder of BEAUFORTPERSONALTRAINING.COM and MYBACKPAINCOACH.COM. Ian and his team help people get into optimal shape in the safest, fastest and most effective way possible, using cutting edge science.