Facebook Post from Susan Trogdon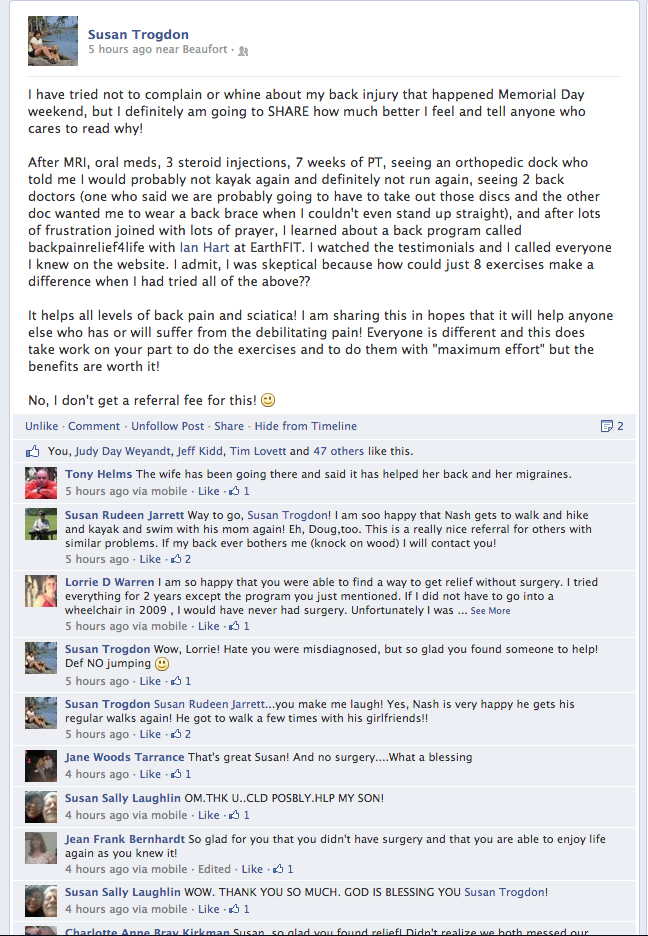 Back Pain Relief4Life is the worlds simplest and most effective way to eliminate back pain naturally… without the need for drugs… surgery… or fancy equipment.
Back Pain Relief4Life is a lower back pain cure that beats out every other back pain remedy and option in the world for getting a healthy and strong back. It is a back pain relief program proven by science and has helped thousands of people across the word eliminate their back pain in an all natural way, all while eliminating hip pain, neck pain, improving sleeping, improving posture, better flexibility, better mobility, improving sex drive, building core strength, back strength and releasing endorphins to get a feeling of euphoria. Back Pain relief for life is a natural medication with only positive side effects. The best part is the cost. It cost less than one co pay at the chiropractor but provides a lifetime of back pain relief from the knowledge you receive.
More than anything, Back Pain Relief4Life is a conduit back to a normal pain free life, so you can spend more time doing the things you love and being with the people you love, free from the worry of the back pain ever returning.