Alyssa EarthFIT Testimonial Beaufort Personal Training
"Before EarthFIT, my life included a lot of migraine headaches, I weighed 217 Lbs, I was out of breath doing just about anything. I actually went to a rheumatologist because I had so many aches that they thought I might have lupus or some sort of other autoimmune disease because everything hurt including my hands, my feet, my back, my joints and every aching pain in my body. I even had pains in my teeth and so I went through a whole series of blood test and everything else, and they ruled everything out except they said that my weight was causing most of my issues and they said that I needed to gain strength in my muscles and so I knew I had to do something.
I came to EarthFIT because I didn't really know anything else to do. I was trying to do things on my own like walking and doing some exercises at home, but it just wasn't doing enough and so I came here and decided to see what it would do.
The results here have been significant weight loss, but more so than the weight loss has been a severe amount of energy. I can do just about anything from the time I wake up to the time I go to Bed. I feel strong, I don't feel like when I'm doing things I don't get fatigued like I used to. I don't feel pain when I'm trying to accomplish tasks like when I'm doing anything from mowing the grass to doing things with my kids even in swimming from the pool with them, carrying them up the stairs, even putting them in the grocery cart, doing the grocery shopping, simple tasks like that, even standing at the stove cooking dinner, everything is much easier. The confidence level has gone through the roof, when I look at the mirror I feel strong and I feel healthy, I feel good about myself and since I've been here I feel like it's changed my life.
I was very skeptical about EarthFIT, I really didn't understand how the program worked, I was very self conscious about it, because when I walked in the door I could see all these people doing these exercises I never pictured myself being able to do. It was very intimidating to me when I walked in the door. I never pictured myself being able to do deadlifts with kettlebells, trap bars and then pull-ups and all these things. I just couldn't have pictured myself being able to do them and so once I got into the program and it was so personalised for each individual person and they start you at such a slow pace and work with you and your level and get you into the program and work you into each individual exercise and work with your strengths and weaknesses that it really builds your confidence with each exercise and before you know it you're doing things that you never knew you could do.
I definitely would recommend it [EarthFIT]. I think any person of any age, of any fitness level can walk in the door and have a program developed specifically for them, even if you have a shoulder injury, back, knee injury, if you're overweight, underweight, whatever it is I think they can work with you and get you strong and get you healthy."
---

Daily detox and nutrients (Chlorella)
"Alright, so in this video I'm talking to you about something so powerful that I think everybody on earth should be taking it everyday and the reasons being is it's just an unbelievable super food. Now, this has been studied (the product that I'm talking about right now which I'll get to) has been studied for almost a century now. In the 1950s there's a study on children who took this supplement and children who didn't take this supplement and what they found was the children who took this supplement and I'm speaking about "Chlorella" and specifically in this test it was chlorella growth factor. The children who are on this supplement (it shouldn't be supplement, actually food) It's considered a food but we talk about is a supplement in this box. The children who are on the chlorella growth factor grew taller, their palette formed better, they looked healthier and stronger like physically and that is what I'm going to get to when we speak about the 7 proven and researched ways that chlorella can benefit you. Now, I'm such a believer in this because my wife took this all during the pregnancy and I'll tell you the reasons why and my son has been taking this ever since he was born and one of the reasons being that study but also because of the other benefits that I'm going to speak about.
When we talk about protein really, what we're talking about is amino acids. And amino acids are there is 21 amino acids that make up a full protein. Now this is a considered an algae. This algae has one of the best make ups of amino acid that you can get from non-meat and it provides about 16 grams of protein per ounce plus you are getting zinc, magnesium which we've spoken about, iron, vitamin B3, B2, A. Pretty much you are getting the necessary recommended doses from chlorella. So it is extremely powerful when it comes to just giving you the nutrients you need. But, the most important part which I'm going to get into and most people speak about it is the fact that it detoxes the body. And before we talk about detoxification, it something that everybody should be conscious of all the time now we are exposed to toxins. If you have been vaccinated, if you eat fish, if you've lived in a city, if you've drank from a city water, you want to be taking chlorella because this prevents the toxins from going deep into the tissue, it will absorb the toxins, carry it out as well as remineralize and give you the amino acids that you need. So now if you are detoxing, you want to make sure that you go slow with this because you don't want to detox too fast because that will also cause a problem. Now that's one of the things that it does now on top of that because of all the benefit that it has, it also supports your immune system. It's a little bit of a blood thinner so it helps get nutrients and circulation going, it also promotes weight loss. This is something that's been studied and proven as well and then like I mentioned before with the children, it made them look healthier and stronger. This also makes the person look and feel younger.
So the research is continued to reveal that this slows down the ageing process because you are getting the necessary nutrients that you might be missing and again this goes back to why gut function is so important and so as it improves your immune system as well, it helps you fight off cancer. It raises the immune system to fight off any infections or cancer cells that are now building in the body.
The last thing is it lowers your blood pressure, and cholesterol so I would highly recommend chlorella. I can go on and on about this supplement. The biggest thing that I want you to take away from this is that you are getting a lot of the nutrients, protein mixture, good amino acids plus vitamins and minerals that most people are missing nowadays and on top of that it's detoxing the body of impurities that you want to get rid off, we want to continue to get rid off and as you're exposed to them continue to take and that is why I recommend chlorella everyday.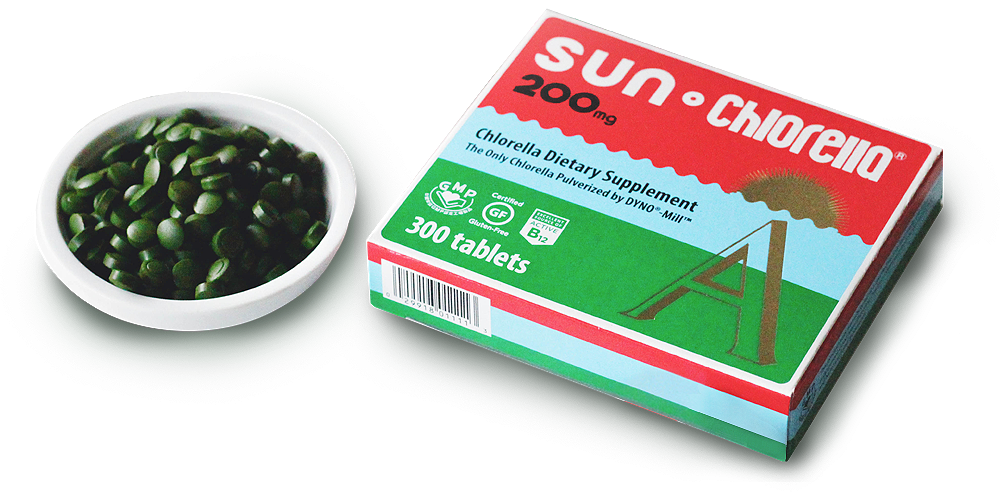 Now the last thing that is very important is where you get your chlorella. This has been tested so Sun – Chlorella, I'm not affiliated with them, I don't get anything from this, I do use Sun – Chlorella, my son uses it. There's also a clean chlorella, another supplement that I've read from Mike Adams from natural news. He gets it from Taiwan because the chlorella that is created in China or made into a supplement in China, even though it's organic it's still taking impurities from the air. What they found out is even the organic chlorella is sometimes contaminated with this heavy metals from the air. So Taiwan had the cleaner air, it had organic chlorella, the impurities were the lowest. So Sun- Chlorella and the Taiwan clean chlorella are one of the best ways to go when it comes to buying this supplement."
Ian Hart is a Body-Mind Transformation expert, the creator of EarthFIT Training Systems, co-creator of BACK PAIN RELIEF4LIFE, and founder of BEAUFORTPERSONALTRAINING.COM and MYBACKPAINCOACH.COM. Ian and his team help people get into optimal shape in the safest, fastest and most effective way possible, using cutting edge science.
---

Beaufort Health and Fitness: Neck and Shoulder Program
Hey! What's going on? Here's a video that will help you reduce neck and shoulder pain. As you can see the neck and the shoulder are connected so a lot of times they are affecting one another and there's a lot of muscles, tendons and movement going on in these areas and if you are not moving properly, it can exacerbate the issues. So, what we are going to do is we are actually going to hit every single joint across the neck and the shoulder to increase mobility proprioception and activate the muscles that you might be missing, stretch some of the tight muscles, strengthen some of the weak muscles, and then therefore eliminating pain just through movement and a lot of times that's all it takes just activation of these movement patterns.
So we are going to get started right away, we are going to start in the neck and then move into the shoulders.
The first thing that we want to do is now stand with good posture. We are going to raise our shoulders up. Open our arms, get into our normal anatomical position, drop our shoulders and now we should have good posture.
And we are going to start with 4 repetitions of each movement.
Now the first one is going to be neck side to side so we are moving within a good range of motion that feels comfortable and each time you can increase the range of motion slightly. And now we are going neck, chin to chest and head back and as we raise we are not pushing back, we are kind of pushing up and back to stretch the front of the neck.

This time we are staying in this position, the only thing that is moving is our neck and we are going ear to shoulder back and forth. And as you do this, I want you to start focusing on your breathing , breathing through the nose in through the mouth.

And now we are going to turn our head to the left, bring our chin down to the shoulder and all the way across and repeat… and Relax.

Now we are going to do full neck circles all the way around in every aspect, think about your neck. Go nice, slow and controlled, still breathing and now change directions for the other side. Reconnect with your body, use this time to think about all the joints. A lot of times it's just a lack of mental connection to activating these muscles.
So now that we have loosen up the neck, we are going to start to go into the shoulder that's also connected with the neck.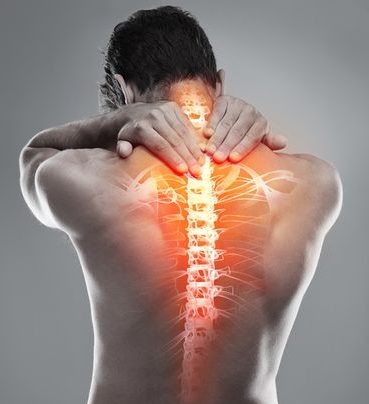 So we are going to bring the shoulders up to the ears, forward and then backward all the way. (Big shoulder rolls and deep breaths in) And change directions…

Now we are going to raise the arms straight up in the air and reach as high as you can, deep breath in, exhale and reach even higher, reach and extend the arms as high as you can lifting the ribcage up. And now from here, we are going to  drop one hand down and reach out far to the side and now we are stretching the lats that connect to the humerus there and now we are going to reach the other side and again deep breaths in… fully stretch the lats as far as you can. If you can, try to even feel the hip to get the whole chain. This is going to help loosen you up for the next one that we are going to do here.

And now we are going to interlaced the fingers and we are going to go back and forth, stretching a little bit deeper to  the shoulder and the scapula here, we get range of motion in the shoulder that you might have not done. What you can do actually is gently push back with your head if you can get into that range of motion as you pull the elbow into the head. And just from this point right now you should start to feel all the joints loosening up.

And now we are going to do single arm circle and we are reaching up and turning the hand as we rotate looking at the fingers. We are looking at the fingertips here… really reaching down, back… now change direction thinking about all the movements, thinking about your shoulder if you are doing it correctly you should start to feel a burn in your shoulder, that's the tendons and the muscles that we are working and having been used in a while. Now we are going to switch arms, forward arms, again we are reaching up, forward, down and back… changing and rotating the hand as we do it. (Deep rotations). Change direction.

Alright, the next thing we are going to do is take a deep breath in, you are going to open up your arms wide, you are going to spin and rotate the shoulders back come in and then back into a big arms circle, rotating the arms backward, bringing the palms up and in and back around.

Now we are going to do both arms, big circles… change direction. You should really start to feeling this in the shoulders and the neck.

And now we are going to gently slap the body and now opening up the arms, using the scapula think of your scapula as you do this. Alright, we are almost done.

Here the last few we are going to do. Arms straight up in front of you, now you are going to raise them up and down using the scapula as you raise up and down.

And now elbows to 90 degrees, open the arms up and down.

The last one like you are pulling a band behind the back and then you're going to squeeze the shoulders together as you pull back so let me show from the back we are pulling, squeezing the shoulder back and again pulling, squeezing the shoulders back one last time.
Alright, so there you have it. Now, we just activated every joint in full range of motion. You should feel loosened up, you should now have more increased awareness from the brain to the muscles around your neck and your shoulders. So, there you go eliminating pain the first step is just getting the body moving in the right scenario. So this should help you eliminate pain for your neck and your shoulders. It's recommend that you do this daily for at least 3 weeks to see real results occur because it takes that long to make the neuro connection for these muscles if they have not been activated previously or for a long time.
So, this is Ian Hart. I hope you enjoyed the neck and shoulder program and I'll see you on the other side.
Ian Hart is a Body-Mind Transformation expert, the creator of EarthFIT Training Systems, co-creator of BACK PAIN RELIEF4LIFE, and founder of BEAUFORTPERSONALTRAINING.COM and MYBACKPAINCOACH.COM. Ian and his team help people get into optimal shape in the safest, fastest and most effective way possible, using cutting edge science.
---

Hey EF Fam,
I find that almost everyone can benefit from increasing their thoracic mobility.
As sedentary lifestyles, cell phone addiction and toxicity/neurotoxin issues increase, it creates a perfect storm for poor posture, rounded shoulders (Protraction) and humpbacks (hyperkyphosis) and tight thoracic spine (midback).
The implications for this are beyond what most people might think.
If your posture is suffering then your thoughts will suffer.  If your thought are low then your will feel low.  If your posture is poor then your mechanics will be poor.  If your mechanics are poor then you will end up in pain or injury at some point.
Do everything your power to maintain, improve posture and prevent the hunch back and a tight thoracic area.  Here is a simple program that you can do to increase thoracic (Mid back) mobility. This will also improve shoulder function as well as the way your thoughts are processed.
I created a video for you as a solution.
You can do this pretty much anywhere.
If you don't have any of the equipment handy, you can do the exercises that do not require any equipment and still get amazing results.
Watch the video here

The body works as a connective chain and we should see:
Thoracic Mobility
Lumbar Stability
and Hip Mobility
But what we tend to see is:
Thoracic Stability
Lumbar Mobility
and Hip Stability
creating a formula which can lead to lower back pain.
We already have an internationally successful formula to help stabilize your lower back and mobilize the hips called Back Pain Relief4Life
But thoracic mobility is a missing link to even greater results.
So, for that reason, I created the THORACIC MOBILITY PROGRAM
Ian Hart is a Body-Mind Transformation expert, the creator of EarthFIT Training Systems, co-creator of BACK PAIN RELIEF4LIFE, and founder of BEAUFORTPERSONALTRAINING.COM and MYBACKPAINCOACH.COM. Ian and his team help people get into optimal shape in the safest, fastest and most effective way possible, using cutting edge science.
---

#1 Health Topic For 2018 (and your future)
Hey EF Fam,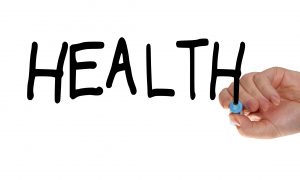 This might be one of the most important topics as it pertains to your future health both physically and mentally for you and everyone you know.
If you want to know what I am talking about
This issue is a MAJOR problem as it pertains to mental and physical health and it is probably not even on your radar.
This issue cause:
Cancer
Neurological problems
Damages cell and DNA
Headaches
Skin problems
Fatigue
Depression
Apathy
ADD
Sleep depravation
and on and on.
WATCH THE VIDEO NOW to find out what I am talking about and please comment if you have any questions.
Committed to your success,
Ian
Ian Hart is a Body-Mind Transformation expert, the creator of EarthFIT Training Systems, co-creator of BACK PAIN RELIEF4LIFE, and founder of BEAUFORTPERSONALTRAINING.COM and MYBACKPAINCOACH.COM. Ian and his team help people get into optimal shape in the safest, fastest and most effective way possible, using cutting edge science.
---

Hey EF Fam,
This past weekend I was in Arizona with other industry leaders from all over the world.
I had a chance to climb Camelback mountain and meet/listen to some really cool people like Tony Robbins, JP Sears (famous spiritual plumber), Randi Zuckerberg from Facebook and much much more.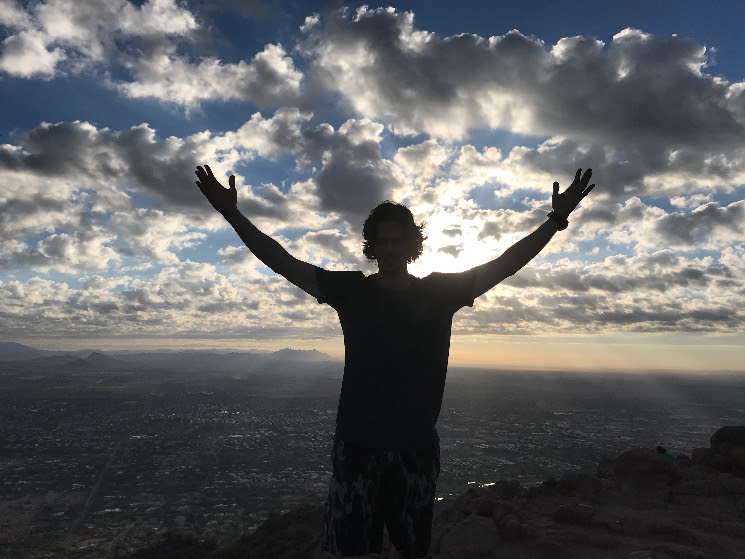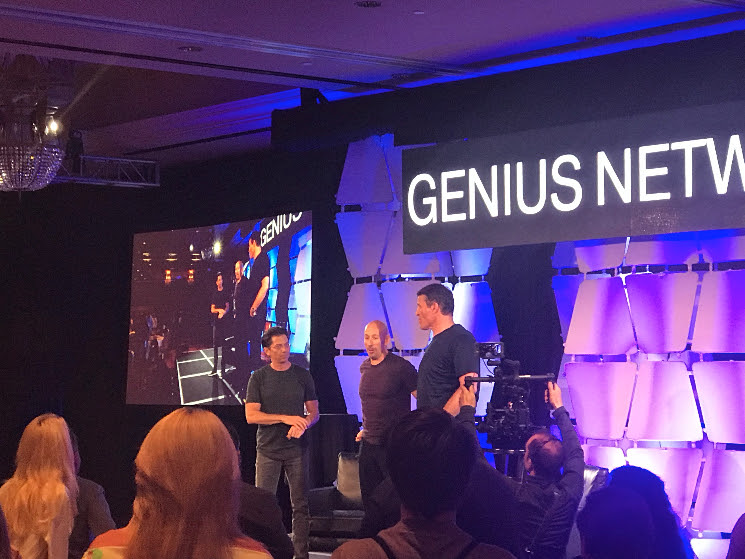 I also had the wonderful opportunity to not only meet and speak with Naveen Jain but also shoot a video with him which you can watch by clicking HERE?.
If you do not know who Naveen Jain is, take a second to look him up, his story is amazing. He came to America from India with nothing and is now a billionaire because he added massive value to the world through various ways.
In this VIDEO? Naveen talks about one of the ways that he is adding massive value again through Viome.
Viome has the potential to dramatically impact the world for the better, forever.
Every disease is linked to the bacteria in the gut and Viome allows each person to get individually tested and make dis-ease a choice.
FIND OUT MORE BY CLICKING HERE AND WATCHING THE VIDEO?
Imagine a world where pharmaceutical medication is not needed.
Imagine a world where you know exactly what you need to eat to feel amazing and prevent disease.
?Well, Viome is working on improving that technology and Naveen in needs 1 million people to get tested in order to perfect the science and technology to improve the tests and decrease the costs.
If you like what you see in the video, please like and share to spread the word.
Committed to your success,
Ian
Ian Hart is a Body-Mind Transformation expert, the creator of EarthFIT Training Systems, co-creator of BACK PAIN RELIEF4LIFE, and founder of BEAUFORTPERSONALTRAINING.COM and MYBACKPAINCOACH.COM. Ian and his team help people get into optimal shape in the safest, fastest and most effective way possible, using cutting edge science.
---

The road to your dreams isn't always easy to navigate, sometimes dotted with mountains to climb, obstacles to overcome—and hard, mind-numbing times that will make you feel like quitting. Just remember this if you get lost along the way: Anything worth having doesn't come easy. So don't turn back around. Don't give up.
As you work to achieve your most ambitious goals, push yourself to keep moving forward with these top 10 Beaufort Fitness Motivational Quotes.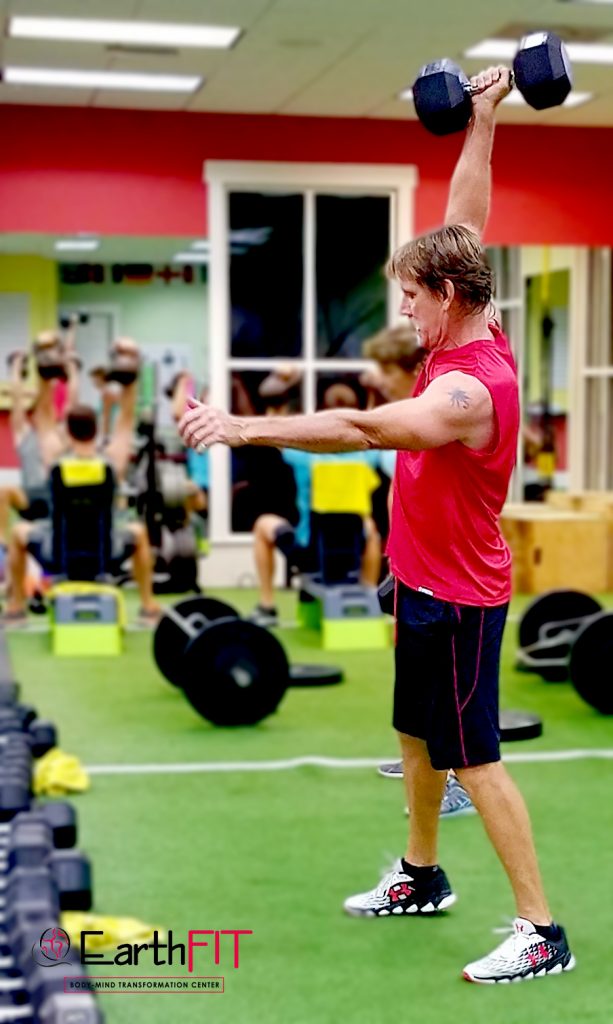 1. Give this world good energy. Work on your weakness until they are strengths, and work on your strengths until they are second nature.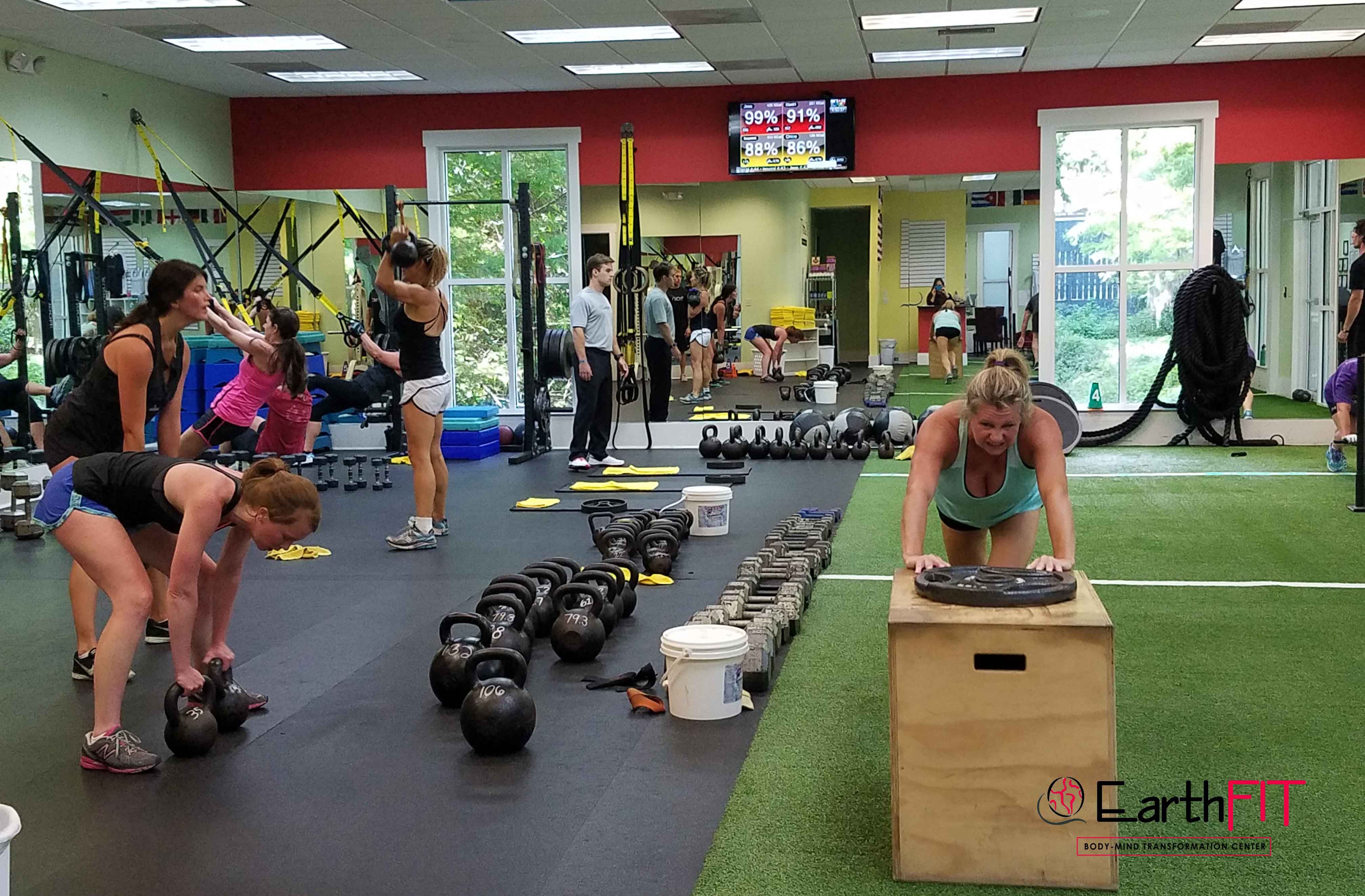 2. We don't grow when things are easy; we grow when we face challenges.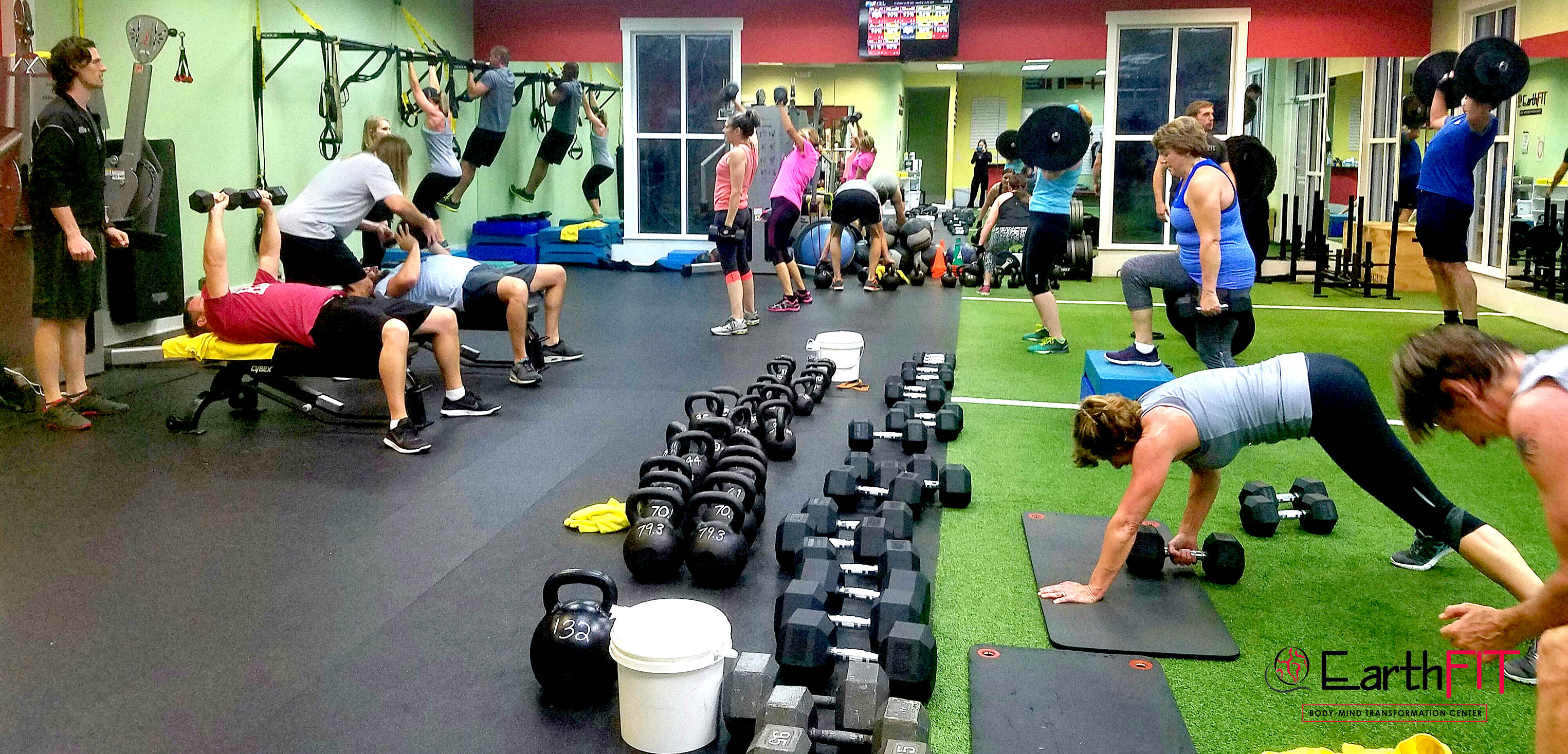 3. Instead of starving yourself, starve the negative thoughts that say you can't lose weight in healthy ways, and feed the positive thoughts that say… YOU CAN.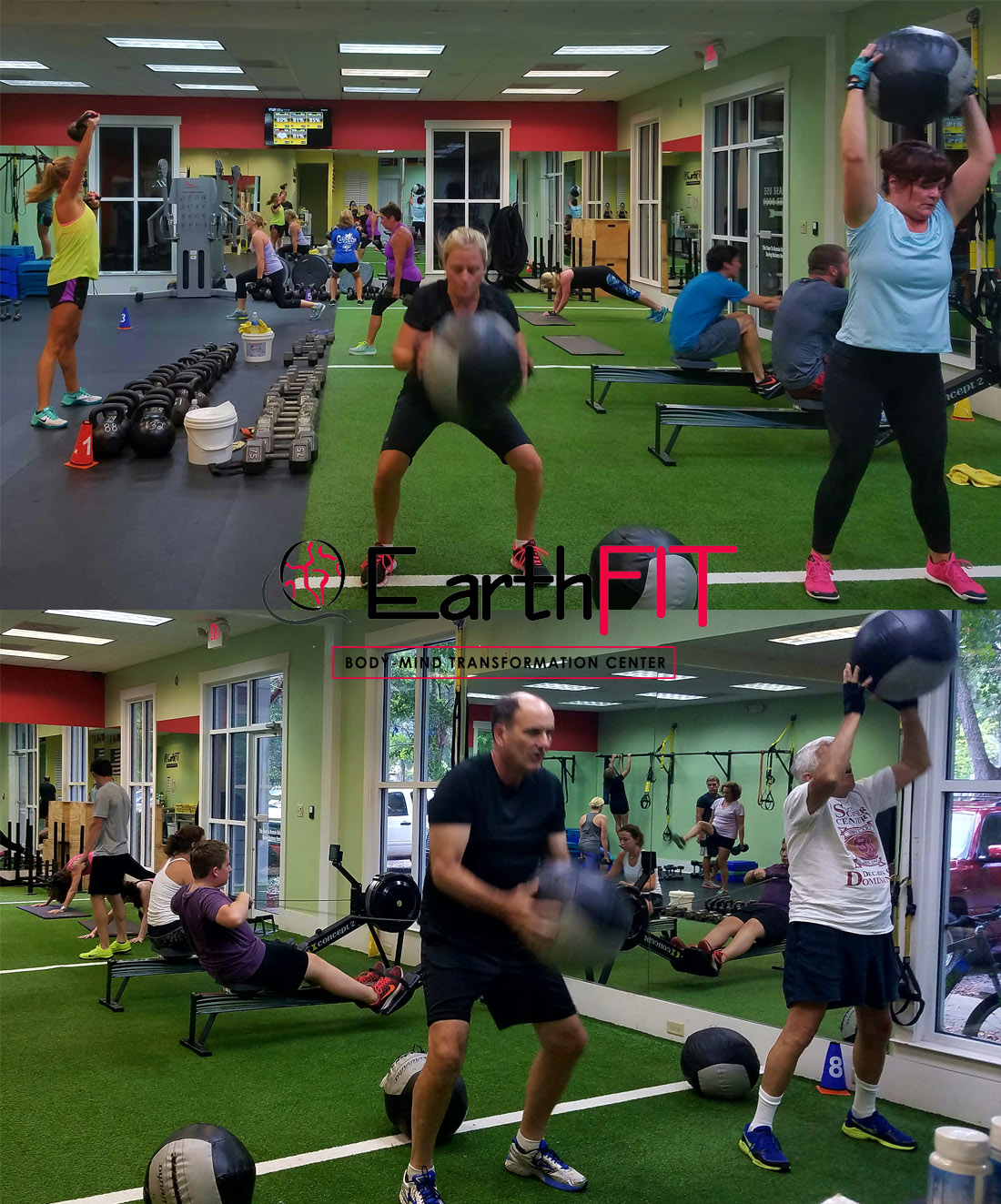 4. Time is a created thing. To say "I don't have time" is to say "I don't want to". Failure will never overtake if the determination to succeed is strong enough. Make today count, no excuses.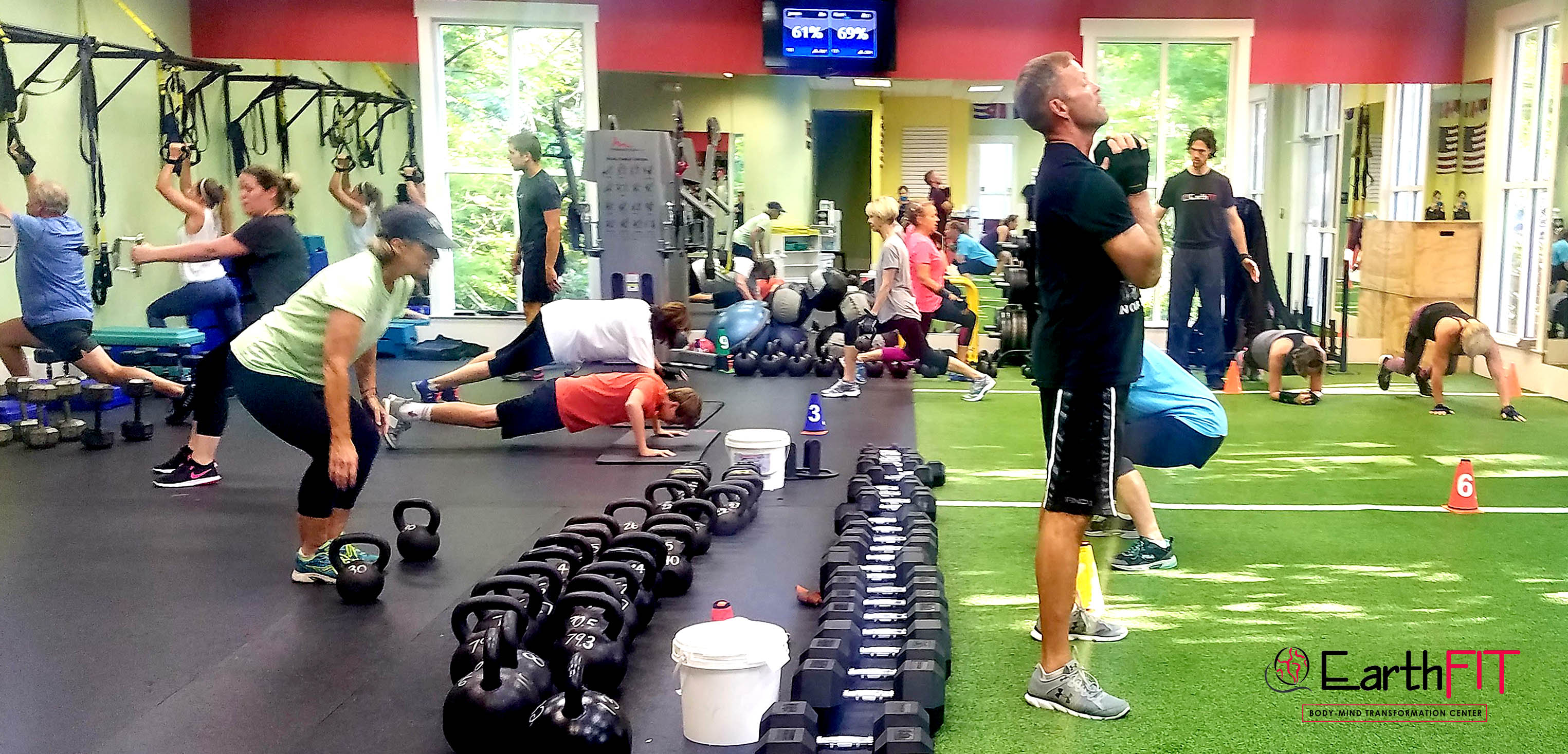 5. Don't let the scale define you. Your bodyweight is no reflection of who you are, your strength, your intelligence, your kindness, your beauty, or your worth. Be active, be healthy, be happy.

6. Fad diets can change your weight. Working out can change your body. Fitness at EarthFIT is not only about weight loss; it's about developing strength, power, speed, endurance and stamina.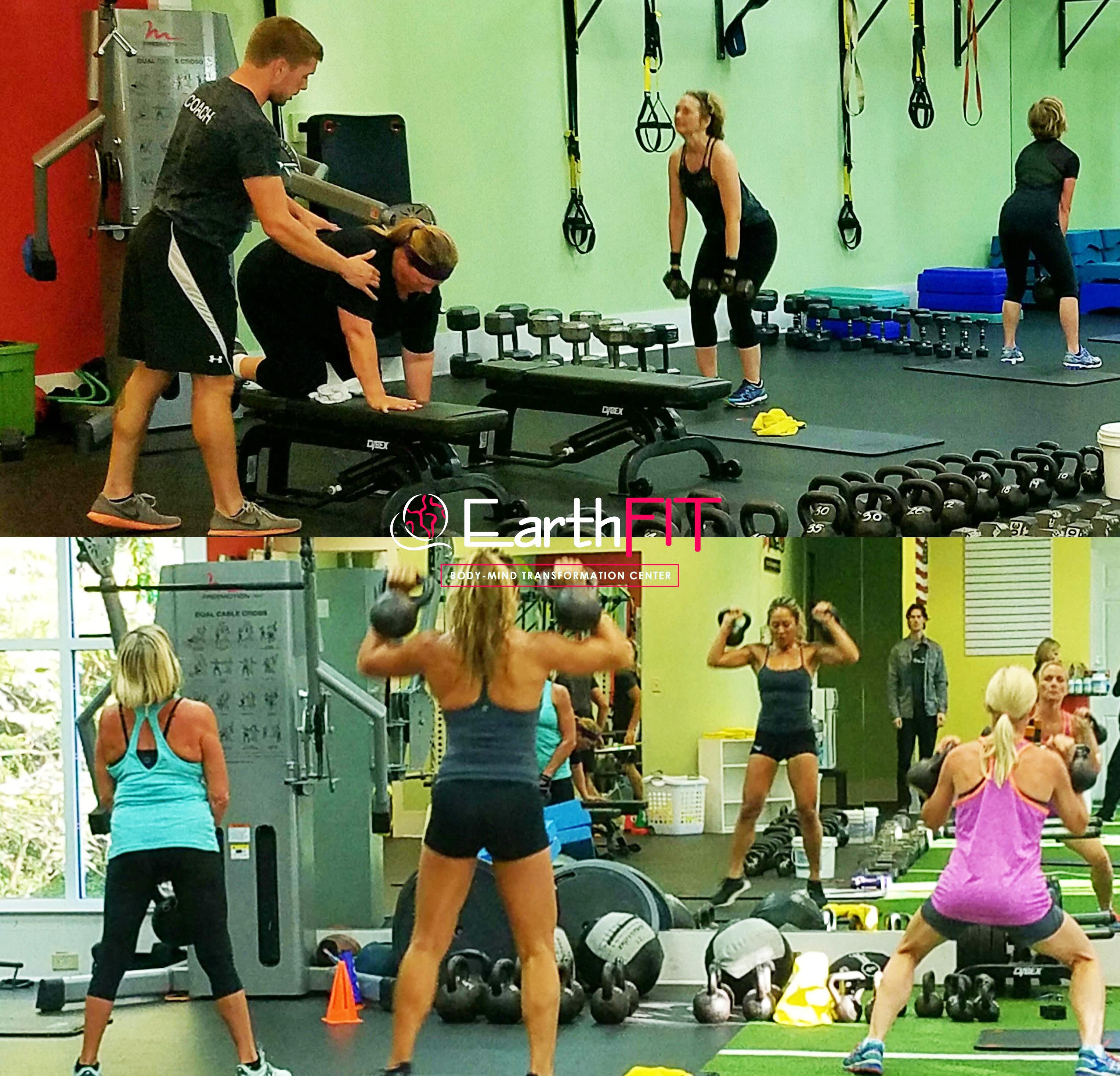 7. The body is designed to move, and it is designed to move a lot… Don't let injury deter you from continuing to workout and don't let the thought of injury create fear in your mind so that you don't exercise or decide to join a training program…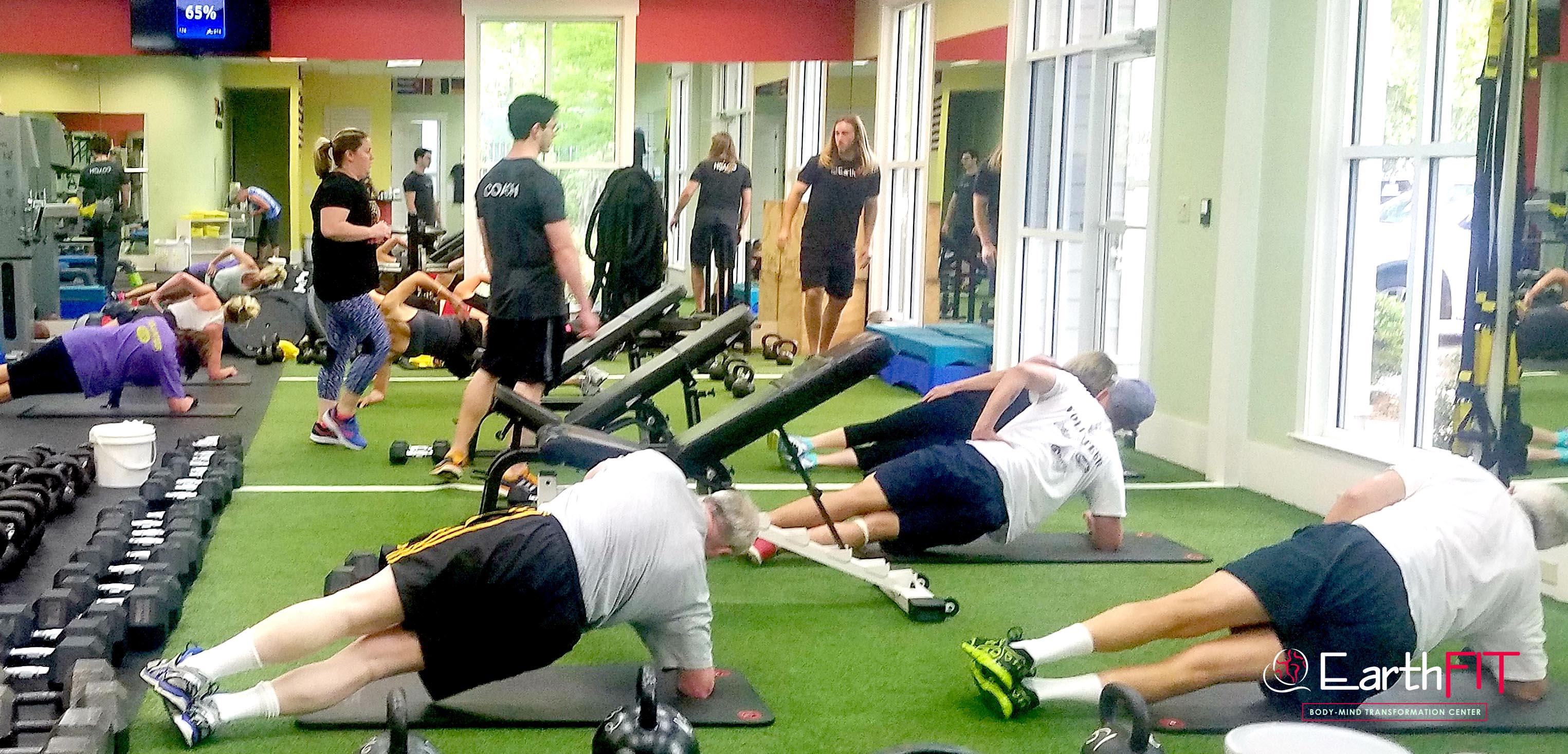 8. Health is not about the weight you lose but about the life you gain. Learn to enjoy the process, not just the outcome.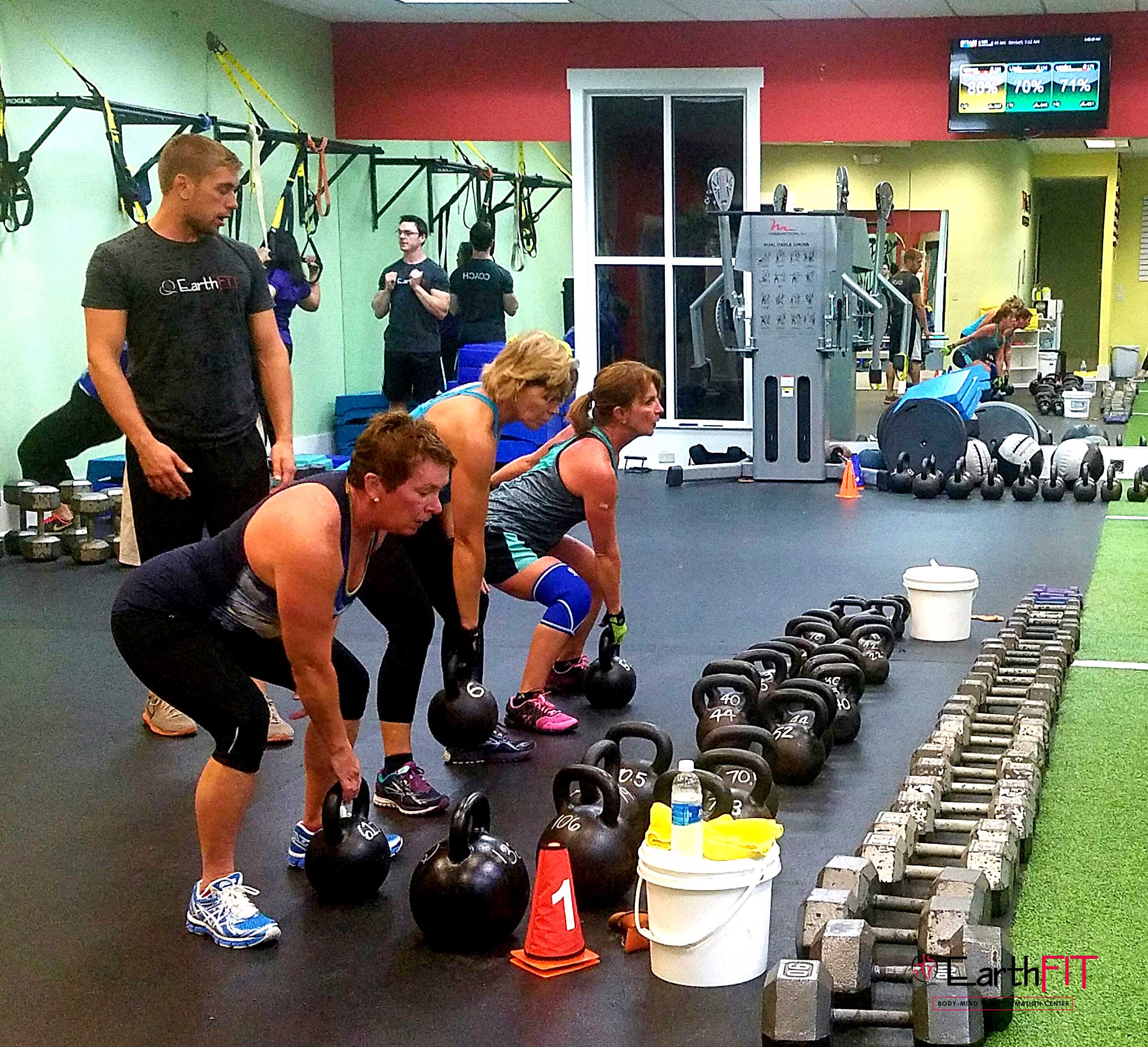 9. Life doesn't get easier and more forgiving. We get stronger and more resilient.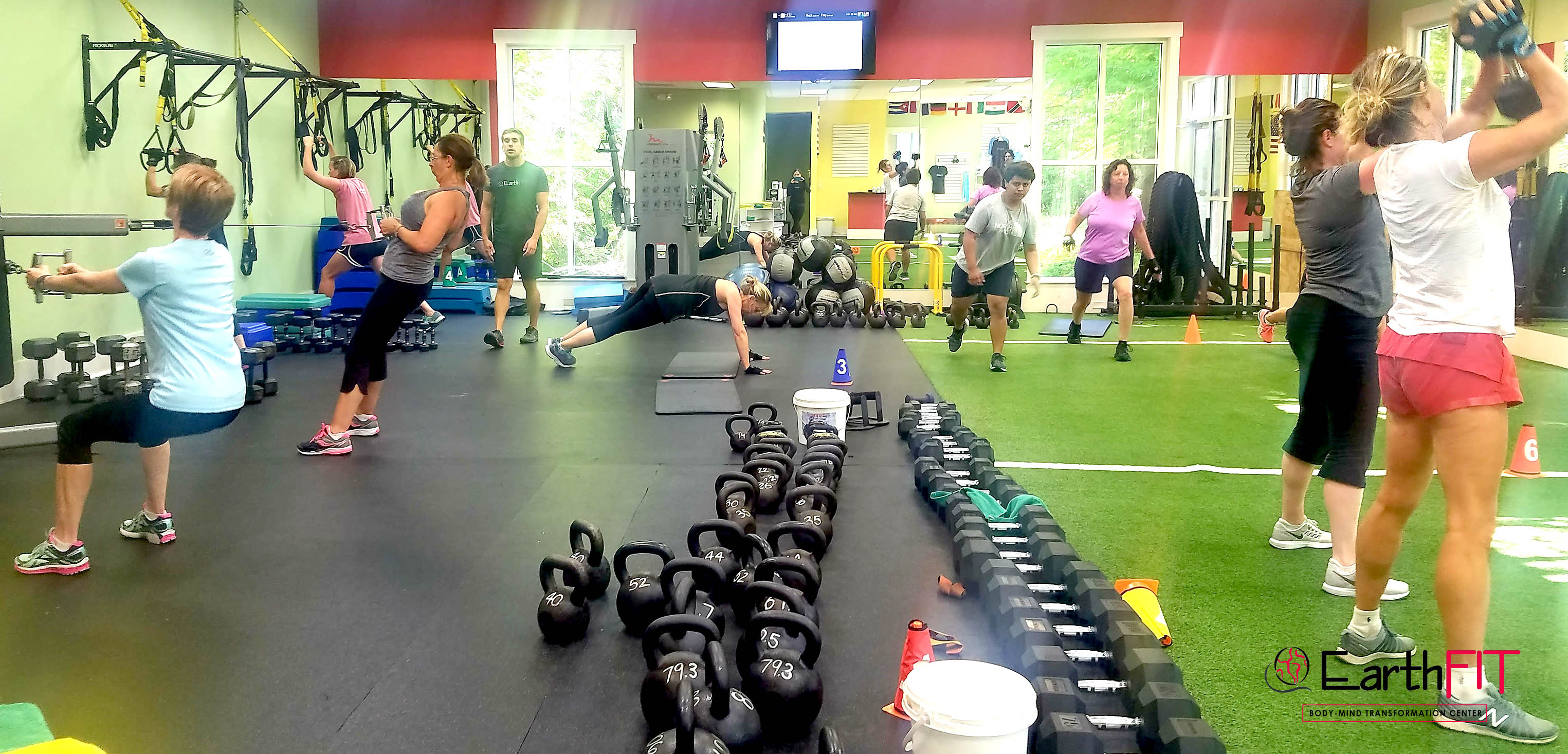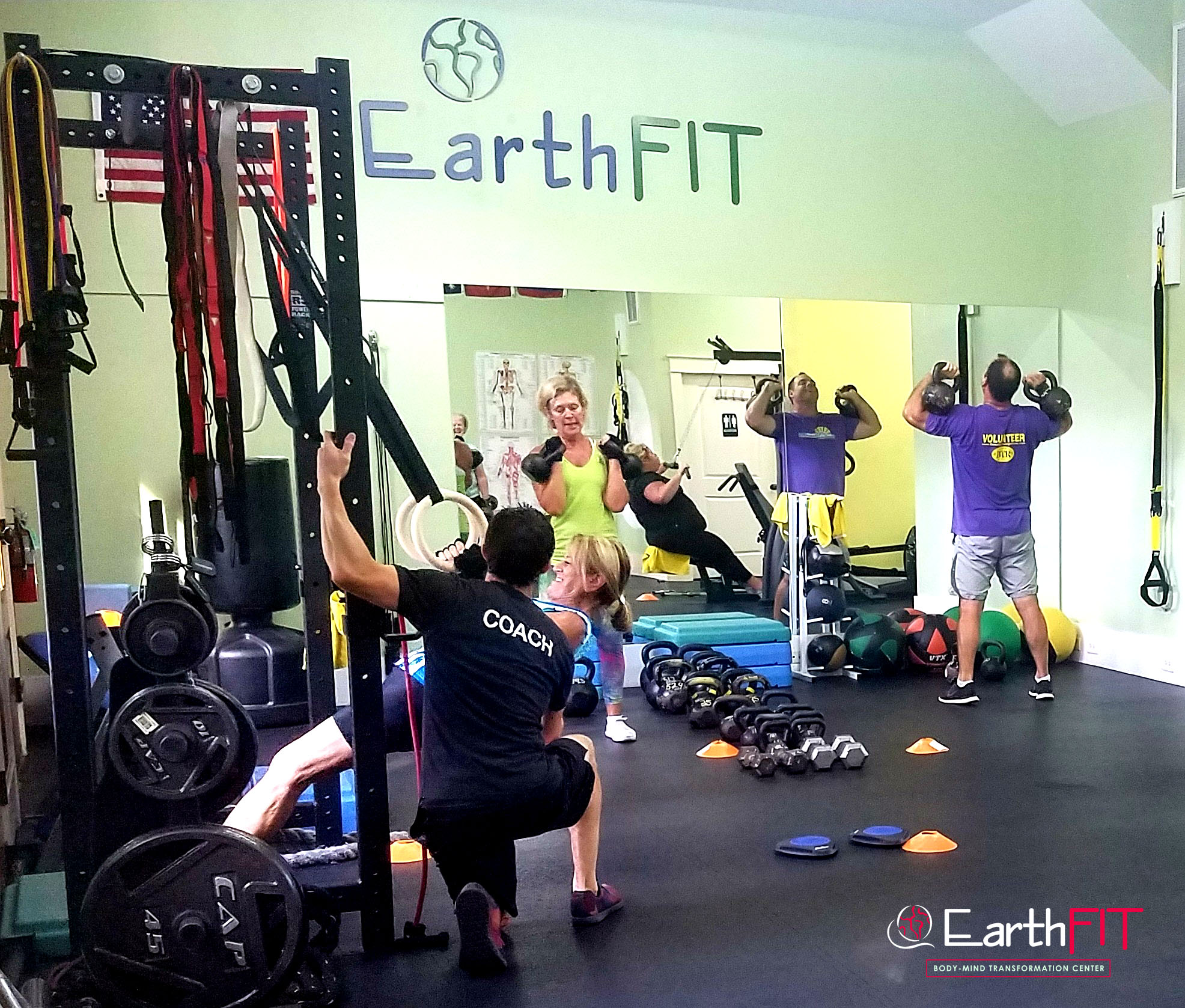 10. Do not let your fear hinder you from what you are capable of. Today is your day to start fresh, to eat right, to train hard, to live healthy, to be proud.
Now stop competing with others. Start competing with yourself.
Discover you.
Find your passion, life purpose, and take action.
Nothing is above or beyond what you can achieve and at EarthFIT, we will coach you through everything you require to achieve your goals.
---
---
---

Hey EF Fam,
About 75% of the population in the US are dealing with gut problems nowadays.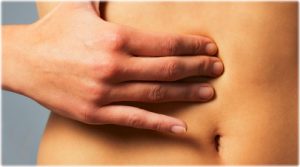 I created the video below for an online membership site that I have about
"Getting Great At Feeling Great" where we discuss the 5B's:
Belly,
Back,
Brain,
Body
and being
In the video I cover:
signs and symptoms of an unhealthy gut like

Digestive issues like bloating, gas, diarrhea, constipation
acid reflux
Joint

Food allergies or sensitivities
Anxiety Depression Mood swings,
Irritability
Skin problems like eczema, rosacea
Diabetes
Autoimmune disease
Frequent Infections
Poor memory and concentration, ADD or ADHD
Weight gain
Thyroid problems
Adrenal fatigue

Causes of an unhealthy gut
Auditing your gut health
and how to heal it and improve it
If you have any of the following symptoms above you may want to check
this video out as it could change your life dramatically.
Belly Audit

Committed to your success,
Ian
P.S. Please join me in Congratulating Stephen Wyatt. He passed his EarthFIT Group training Certification with flying colors. If you didn't already know, Stephen was working as the Head Strength and Conditioning Coach for a great school in upstate SC before coming to Beaufort. He played 4 years of College Baseball at a highly competitive level and has the industry's best certification, CSCS (Certified Strength and Conditioning Specialist)
---