"Hey! What's going on? It's Ian Hart from Back Pain Relief4Life.com, the Co-creator of Back Pain Relief4Life program and a Back Pain Relief expert. What am I going to do is explain to you about Muscular Imbalances and how that's the #1 cause for back pain and a lot other issues that comes out. So first off, 85% of the population is suffering from back pain due to Muscular Imbalances and if you don't know already which I am sure everybody hears 80-90% population has or will be suffering from chronic back pain and those numbers continue to get worse and worse each year as we become more and more sedentary, more and more overweight, and have more stress and pressure put on the body.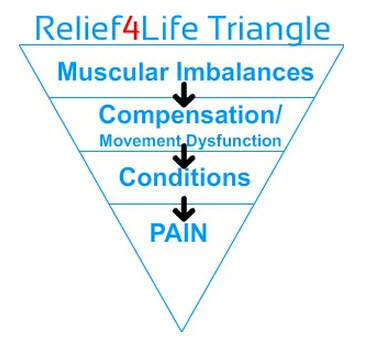 First off, what is Muscular Imbalance? A muscular imbalance is similar to a tug-of-war. You have opposing muscle groups, some muscles in the front, some muscles on the back. Well if you are sitting in one position all day, certain muscles are going to get tight – so let's say anterior muscles – and then the opposing muscles are going to get weak. So there is going to be a tug of war on the joints putting stress and pressure on the joints consistently and that gets worse and worse over time until a very pivotal point is there is the most stress let's say on your lower back because all those muscles are connecting around your pelvis, your hips and stress ends up right in the lower back and in the spine. So what we did is we have our pain pyramid right here.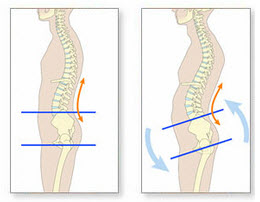 So let us say someone sitting all day, they have tight hip flexors, tight abs or weak abs as well, their back becomes weak, the muscles start to atrophy, the nerves in the back get impinged upon, there is lack nutrients and blood flow to that area. So you can see the front of the body is tight and strong and then the back is weak and atrophied. So when we go pick something up, you compensate on that movement. Those muscular imbalances lead to compensation. And when you compensate repeatedly, that leads to dysfunction in your movement patterns, and when you have dysfunction, that leads to pain. Not always, but most in time. Studies have shown that people who have abnormalities in spine don't actually have any pain, whereas people who don't have abnormalities in spine, they are actually living with pain. So it's hard to tell exactly where that pain is coming from, but what we do know is, is that if you do certain specific exercises to help stretch the tight muscles and strengthen the weakened muscles, then you can actually get relief all around, not only on the back, but also the hips, the knees and the ankles because everything is connected – if you think about it, you have major nerves coming out of your spine that lead to your body and those transport nutrients and oxygen and all this other things that we need to have healthy and strong bodies. Now, what we are going to do is put a couple of exercise that you can do just pictures of them below and those are some things that can give you almost immediate relief and of course just moving your body is going to give you immediate relief, but these are specific exercises that are going to target those areas that you would need to help eliminate that back pain, and help you feel strong and just loosen up a little bit. This is Ian Hart from Back Pain Relief4Life. Go ahead and look at those exercises below if you are dealing with back pain and if you have any questions or comments, go ahead and leave that below as well and have a great day!"
Ian Hart is a Body-Mind Transformation expert, the creator of EarthFIT Training Systems, co-creator of BACK PAIN RELIEF4LIFE, and founder of BEAUFORTPERSONALTRAINING.COM and MYBACKPAINCOACH.COM. Ian and his team help people get into optimal shape in the safest, fastest and most effective way possible, using cutting edge science.