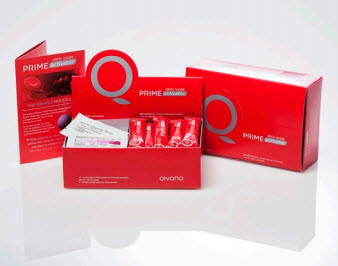 Prime is the Nitric Oxide Activator. It is used to regulate blood pressure, improve circulation/ blood flow, sexual performance and brain cognition. It comes with 30 sachets per box.

Directions for use:

Take 1 PRIME packet first thing in the morning on an empty stomach and before brushing. PRIME should be taken at least 30 minutes prior to eating. For best results take 2 packets consistently for 90 days, followed by 1 packet per day for maintenance. Simply rip open sachet and pour onto tongue. Let dissolve without swallowing for as long as possible so the formula can dissolve into the tissues of the mouth thus entering into the blood stream and bypassing the stomach.

QORE SYSTEM:

The Qore system is used for cholesterol reduction, energy management, digestive health, and pain management. It comes with 30 Essentials, Green Sachets and 30 Probiotics.

Directions for use:

Take 1-4 packets daily. Pour a small amount directly onto your tongue and allow powder to dissolve and absorb
up to 30 seconds. Repeat until finished. Follow with 8 oz of water. For best results take mid-morning and mid-afternoon.

QORE PROBIOTIC:

Directions for use:

Take 1-3 Trisphere capsules any time of day or night. For best results use consistently for a minimum of 90 days.

METABOLIQ SYSTEM:

The Metaboliq system comes in two versions: The Burn Pack and the Max Burn Pack. The burn pack consists of 30 shakes and 60 boost capsules. The MaxBurn back contains 45 shakes, 60 boost capsules, and 15 Protein Bars. The metaboliq system is ideal to stabilize blood sugar, reduce and in some cases ridthe use of insulin in diabetics, correct metabolism, build lean muscle tissue and burn fat. The shakes are also great for athletes cutting the muscle recovery time in half. Mix shake with 300 ML of Milk or Water.

Directions for use:

For the first two weeks, in the morning take the boost capsule and a shake. In the afternoon have a protein bar and another boost capsule. In the evening another shake. Repeat everyday for two weeks. On week three take boost capsule and shake in the morning.

Metaboliq Burn Pack

Directions for use:

Simply take a boost capsule and shake in the morning, followed by another boost capsule before dinner in the evening.

 
QORE DETOX:

The Detox comes with 60 capsules that ride the body of heavy metals and toxins.

Directions for use:

Take 2-3 capsules with water, 2-3 times daily consistently for at least 30 days (90 recommended). We recommend a heavy metal detox twice per year.

 
QORE DEFENSE:

The Defense product is used to boost the immune system and comes with 60 capsules. It?s great for people who are consistently traveling or for those who have a tendency of common illness.

Directions for use:

Take 2-3 QORE Defense capsules, up to 3 times daily, with 8 oz of water as needed. Recommended especially during periods of stress, travel, and seasonal changes to improve immune system function.

 
 QORE PM:

This product is ideal for those who struggle with sleep/ insomnia. It is an all natural alternative to over the counter sleep aids such as Unisom, Advil and Tylenol PM, and heavy dosages of Melatonin.

•Promotes normal, health sleep with nutrients addressing each stage of sleep
•Improves sleep quality with fewer sleep disturbances and faster re-initiation upon waking
•Unlike other prescriptions and over the counter remedies, you will wake refreshed and energized without a hangover or groggy feeling
• Fast-Acting formula (improving sleep latency)
• Use worry-free, PM is non-habit forming, safe for daily use

Directions For Use:

Take 1-4 capsules 30 minutes before bedtime.