Hey EF Fam,
On the other side of fear is usually where all the magic happens.
On numerous occasions over the years I have had a client come up to me a year or so after they started training at EarthFit Body-Mind Transformation Center and by that point they had lost 20-30lbs, they were leaner, stronger, had more energy were feeling amazing and they would say something like "you know… I almost turned around when I was on my way to do the initial EF fitness assessment but I didn't and I am so happy that I didn't."
It's amazing the transformation that can occur when decisions are made based on love of self rather than fear.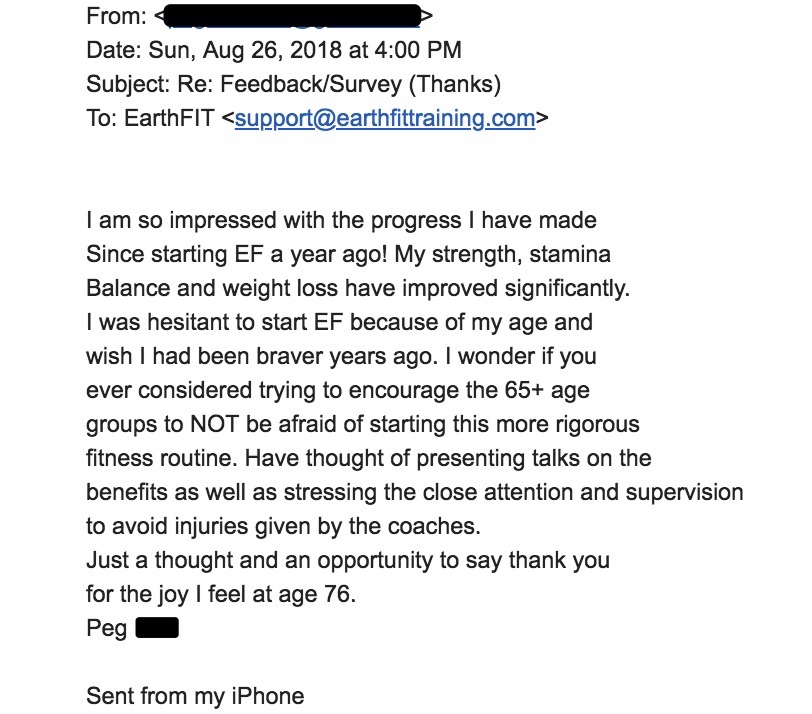 "I am so impressed with the progress I have made Since starting EF a year ago! My strength, stamina Balance and weight loss have improved significantly. I was hesitant to start EF because of my age and wish I had been braver years ago. I wonder if you ever considered trying to encourage the 65+ age groups to NOT be afraid of starting this more rigorous fitness routine. Have thought of presenting talks on the benefits as well as stressing the close attention and supervision to avoid injuries given by the coaches.
Just a thought and an opportunity to say thank you for the joy I feel at age 76."
Committed to your success,
Ian
Ian Hart is a Body-Mind Transformation expert, the creator of EarthFIT Training Systems, co-creator of BACK PAIN RELIEF4LIFE, author of HEALING HACKS, and founder of BEAUFORTPERSONALTRAINING.COM and MYBACKPAINCOACH.COM. Ian and his team help people get into optimal shape in the safest, fastest and most effective way possible, using cutting edge science.