Hey EF Fam,
I tore my pec muscle right off the bone lasts week and had surgery in Costa Rica. Here are some pics of the damage and how it is repaired. I wish I took a video of how my pec didn't activate doing a pressing motion before the surgery. It would have been very educational 🙂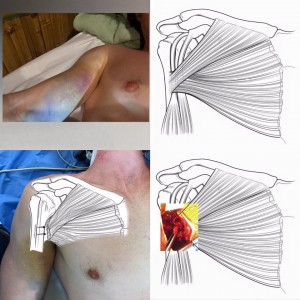 Anyway, I wanted to share a quick tip for those of you who have, might have an injury on one side of the body or if you have an injury in the future, this can help speed up your recovery and it can also prevent atrophy. So if you're looking to ever prevent atrophy, speed up recovery here's a tip…
Beaufort health and fitness: Injury Recovery Tip
Ian Hart is a Body-Mind Transformation expert, the creator of EarthFIT Training Systems, co-creator of BACK PAIN RELIEF4LIFE, and founder of BEAUFORTPERSONALTRAINING.COM and MYBACKPAINCOACH.COM. Ian and his team help people get into optimal shape in the safest, fastest and most effective way possible, using cutting edge science.