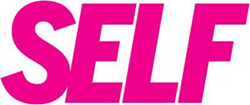 I was asked to reveal some of my secret techniques for back pain relief and prevention by SELF! Magazine a few months back. There were a few questions that I believe were coming from their audience that they wanted me to cover, so I created a video to answer each topic – all related to back pain. There was such a great response that SELF's affiliate blogs wanted to jump on board as well, so a couple of the videos were featured in fitsugar and wellandgoodNYC as well. They didn't feature all of the videos so I am going to feature all of them here today.

The videos cover:
Functional exercises
Progressive crunches with proper form that assist in Back Pain Relief
2 Simple and easy back pain relief movements
2 Back Pain Relief Stretches
Picking up a baby or anything off the floor (SELF!'s target is women with babies apparently)
Lastly the roman chair and how it affects the back and back pain in general
Today almost every single American will suffer from back pain at some point in there life. Some will be bed ridden for weeks, others will have a chronic nagging pain that never seems to go away, while another person may have intense shooting pain and spasms that only last a couple of days and then disappear completely.  Either way, none of it is fun. I know from first hand experience and have dealt with all of the above mention and have become a intense student of the back rather than an intense suffer.
What I have found is the best defense is a good offense, which is why we created the Back Pain Relief4Life formula. For the holidays I knew I would be driving about 20 hours to visit friends and I prepared by doing Back Pain Relief4Life. Before I left, I made sure I did the program like it was my medication and as soon as I got back I did it again and I did not have one issue with my back during the whole trip.
The reason is, there is some hardcore science and years of expertise that have been put into the Back Pain Relief4Life formula and it literally is like medication!
So if you or a loved one has had some back pain or you just want to strengthen your core, loosen up your hips, increase your flexibility, or just burn some extra calories, then give the program a shot, so you can live pain free and enjoy life feeling your best.  http://www.backpainrelief4life.com/
Ian Hart is a Body-Mind Transformation expert, the creator of EarthFIT Training Systems, co-creator of BACK PAIN RELIEF4LIFE, and founder of BEAUFORTPERSONALTRAINING.COM and MYBACKPAINCOACH.COM. Ian and his team help people get into optimal shape in the safest, fastest and most effective way possible, using cutting edge science.