Fitness Tips: How To Get Into A Perfect Push Up
"Hey everybody! Today, I'm going to go over an exercise I see done incorrectly all the time. One of the most popular exercises, one of the most beneficial exercises that you could do from anywhere. That is the Push Up. The most common error I see is people starting out in the wrong position. So I'm going to give you a quick video here, some quick tips on how to get into that perfect push up position. So you could do your perfect push ups every single time.
So you're going to go down to your knees here. I like to make a T when I start my push ups, so I can bring my hands out to about shoulder height here, make a T (form).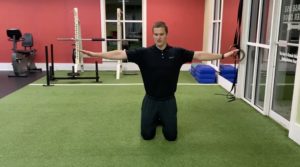 So they come in line with your chest and then simply just fall forward here. My hands are right under my shoulders, though. If you're doing push ups from the knees, you just stay here.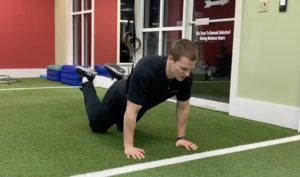 You could bring those knees back a little bit, kick your heels up to your butt and then go down. That would be a modified pushup. Or if you're doing any standard push up, just go from the high plank here, hands stay around the shoulder blades. You go down and then press your way back up.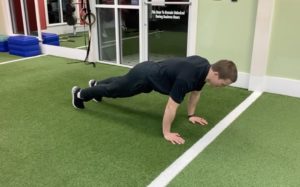 So again, you go from a T position here. So start out T hands, shoulder width apart, bring right to the chest, fall forward, make sure your hands are right under your shoulder blades. You can kick those feet back, or if you're going from the knees, kick the heels up, go down and then press up as a quick little tip on how to get into the perfect push up position so you're doing those push ups perfectly every time. And remember you want your hands right under those shoulder blades. I see a lot of people doing that incorrectly. That is all for today. Everybody, stay strong."