Hey EarthFIT fam! You have questions? Hopefully I have the answer. In today's Q and A. I'm going to go over how to breathe during training. And I'm not talking about just breathing, I'm talking about breathing so we can actually get the most out of our workout. What are some strategies we can do? Now with this I could probably make tons and tons of videos, really getting into the weeds, but I'm just going to give you one simple trick today that when you can take it, apply it instantly and get better results right away. Okay. So the main number one thing here, we want to do is practice breathing through your nose. Most people don't consciously breathe. They just kind of take short, shallow chest breaths. Breathing through your nose is actually going to force you to fill up your diaphragm, expand it with air and get more into your lungs.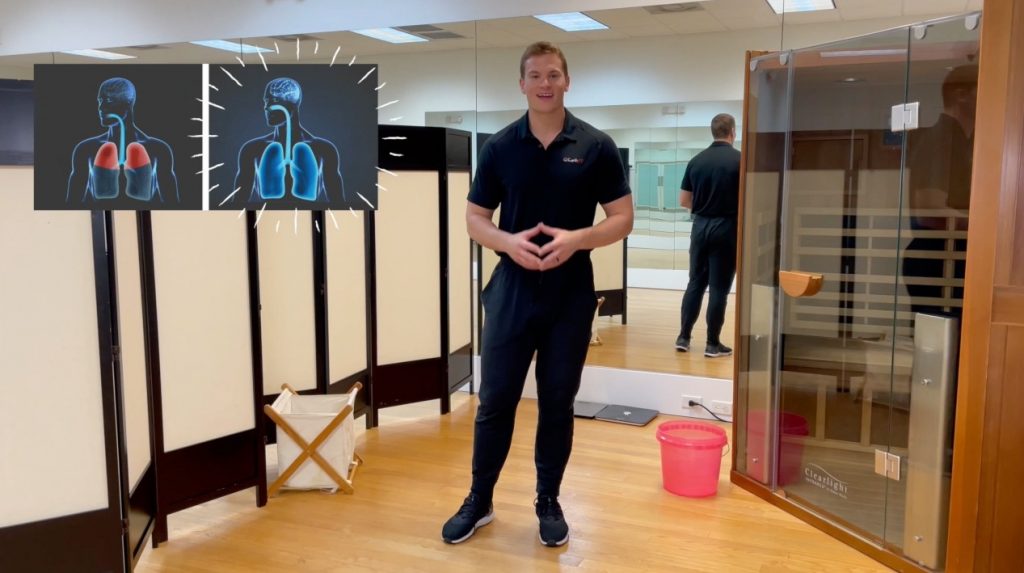 So breathing through your nose, obviously it just looks like this (please see the video) big breath in and exhale. Before you get into training. When, before you even warm up, I would recommend taking about 20 to 30 big nasal breaths in, out through the belly button. You put your hand on your stomach here, exhale… practice that to kind of get that oxygen flowing in your body. And then as you get into training, try to make it through the first five to ten minutes of your warmup or workout, I should say, just breathing through your nose alone. Okay. So if you could just try this simple thing, remember to breathe through the nose, you're going to get better long-term results, especially towards the end of your workout, because you're going to fill your body up with more oxygen early on, which will help you out later.
Another trick you can do, I'll give you a little, little separate side note you could do on non training days. You can use this sauna right here and you can practice the same nasal breathing through that. And then if you have a cold shower or anything like that at home, that's another place that you could really practice your deep breathing in. The reason we want to kind of do it in those two extreme environments is your body's naturally going to want to tense up a little bit so we need to learn how to breathe through it. Similar to training. It's kind of like breathing through, some of that… I don't want to say pain, but discomfort that comes along when you're getting really tired, it's more of a mental stress. So we need to learn how to battle through that. And a good way is to start by practicing either in a sauna is probably going to be the most comfortable and then in a cold shower, and then you can apply that to training.
So very simply again, take about 20 to 30 big breaths in through your nose, out through your belly button to warm up. And then as you get into training, it's shorter nasal breaths. Try to make that as far as you can, 5 to 10 minutes into training, and then you may return to your normal kind of breathing through the mouth. When you do breathe through the mouth, make sure we're getting full deep breaths, try to fill your belly up with air. We don't want to just shallow into that chest. So that's all I have for today. That's your tip. Breathe through the nose. I know it's breaking science here, but that's all I have for you today. If you love this video, give me a heart. If you liked it give me a thumbs up and as always stay strong.
-EarthFIT Coach Sam